Duke: The Musical Life of Duke Ellington (Paperback)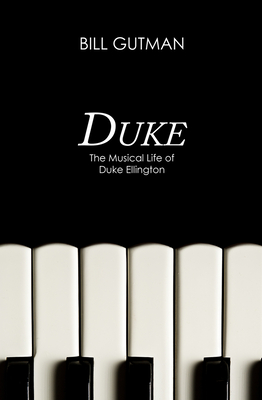 $11.99
Available in our Warehouse: Usually Ships in 3-8 Days
Description
---
Edward Kennedy "Duke" Ellington was one of jazz's greatest innovators. Join Bill Gutman as he explores the fascinating life of this legend from his birth at the turn of the century to his death at the age of seventy-five. Interviewing Duke's friends, fans, and fellow musicians, Gutman documents the progress of a man who dedicated his life to crafting the ever-changing sound of jazz. Gutman plunges into the history of jazz from its origin in the honky-tonk sounds of the Ragtime Era to the forms that are widely enjoyed today. Jazz has evolved through the years to become one of the most popular forms of music, with Duke Ellington as chief composer, artist, and perfomer. Gutman's account of Ellington's life as it parallels the history of jazz provides a fascinating history for both jazz veterans and those new to the art form.
About the Author
---
Bill Gutman is a longtime freelance writer who has published more than two hundred books for both children and adults, in fiction and nonfiction. He has written biographies of such diverse personalities as Magic Johnson, Bill Parcells, Michael Jordan, jazz great Duke Ellington, Pistol Pete Maravich, and former president Andrew Jackson. In addition, he has worked with the likes of former New York Giants linebacker Pepper Johnson (Won for All: The Inside Story of the New England Patriots' Improbable Run to the Super Bowl), baseball star Bobby Thomson (The Giants Win the Pennant! The Giants Win the Pennant!), and former Rangers and Red Sox manager Kevin Kennedy (Twice Around the Bases) on as-told-to books. He has also written numerous sports histories, interviewed former baseball players on their transition to the real world (When the Cheering Stops), spoken with twenty-five extreme-sport, high-risk athletes in the world (Being Extreme), and talked with members of the 1968 New York Jets and 1969 New York Mets (Miracle Year, 1969: Amazing Mets and Super Jets). He has also ghosted a family memoir with Thomas and Betty Jones of Big Stone Gap, Virginia. They are the parents of seven children, including former NFL running backs Thomas and Julius Jones (Blessings from the Dust). Mr. Gutman is currently writing a series of novels and novellas about a New York City detective working in the 1920s (the Mike Fargo Mysteries). Both Duke: The Musical Life of Duke Ellington and Being Extreme are currently available from Open Road Media.
We appreciate your continued support!
If you would like to make a donation to help us through CLICK HERE.