River Road: A Novel (Hardcover)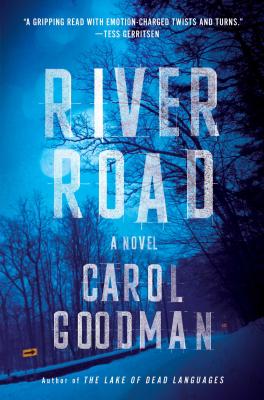 $27.50
This item is not currently available to order.
Description
---
From the award-winning author of The Lake of Dead Languages comes a chilling new psychological thriller about a professor accused of killing her favorite student in a hit-and-run accident.

Nan Lewis—a creative writing professor at a state university in upstate New York—is driving home from a faculty holiday party after finding out she's been denied tenure. On her way, she hits a deer, but when she gets out of her car to look for it, the deer is nowhere to be found. Eager to get home and out of the oncoming snowstorm, Nan is forced to leave her car at the bottom of her snowy driveway to wait out the longest night of the year—and the lowest point of her life…

The next morning, Nan is woken up by a police officer at her door with terrible news—one of her students, Leia Dawson, was killed in a hit-and-run on River Road the night before. And because of the damage to her car, Nan is a suspect. In the days following the accident, Nan finds herself shunned by the same community that rallied around her when her own daughter was killed in an eerily similar accident six years prior. When Nan begins finding disturbing tokens that recall the death of Nan's own daughter, Nan suspects that the two accidents are connected.

As she begins to dig further, she discovers that everyone around her, including Leia, is hiding secrets. But can she uncover them, clear her name, and figure out who really killed Leia before her reputation is destroyed for good?
About the Author
---
Carol Goodman is the critically acclaimed author of fourteen novels, including The Lake of Dead Languages and The Seduction of Water, which won the 2003 Hammett Prize. Her books have been translated into sixteen languages. She lives in the Hudson Valley with her family, and teaches creative writing at the New School and SUNY New Paltz. Visit her at CarolGoodman.com.
Praise For…
---
"A terrific psychological thriller that will keep readers guessing through every twist."
— Library Journal (Starred Review)

"River Road is a gripping read with emotion-charged twists and turns that you won't see coming. Carol Goodman creates a heroine who'll linger with you long after you close the book."
—Tess Gerritsen, author of Playing with Fire

"Goodman expertly melds the psychological thriller and academic mystery into a compelling story of revenge and grief. . . . Believable twists drive River Road to a thrilling denouement."
— Associated Press

"Sharp and a page-turner"
— BookReporter.com

"The story is filled with unexpected twists. Like drivers on River Road, readers won't be able to see what's around the next corner."
— The Freelance Star

"With romance folded between scenes of deadly danger, this is an engrossing mystery."
—Booklist

"A suspense-filled page-turner....This engrossing novel will keep readers guessing unitil the end, which showcases the resilience of human nature and the will to survive."
— RT Reviews (top pick)

"Goodman provides an insightful look at revenge, grief, and rebuilding one's life after a horrific loss."
— Publishers Weekly

"Goodman pushes the needle over into the red zone and keeps it there through page after page of suspense, until it bursts open like a firework in a redemptive conclusion. Longtime Goodman fans, here's our red meat; newcomers, prepare to become longtime fans."
— Chronogram

"Add RIVER ROAD to Carol Goodman's growing resume of frighteningly real suspense novels. Mixing an unreliable narrator with a dead creative writing student and a plethora of suspects in a forbidding setting of snow and ice, Goodman crafts a gripping novel impossible to put down until the shocking reveal on its final pages."

—Robert Dugoni, author of My Sister's Grave

Praise for Carol Goodman:

The Lake of Dead Languages

"A wonderfully eerie sense of place . . . Deeply atmospheric."
— Los Angeles Times Book Review

"Like Donna Tartt's Secret History or a good film noir . . . [this book will] keep readers hooked."

— People (Page-turner of the Week)



The Seduction of Water

"Truly a seductive reading experience . . . grabs the reader on the first page and holds on for the entire journey."

— The Denver Post

"Like the best mysteries, The Seduction of Water offers puzzles and twists galore but still tells a human story."
— The Boston Globe

"An atmospheric thriller, but a smart one with a racing story line."
— New York magazine

"Seduction enchants with its fairy-tale motif and sensuous atmospherics."
— People

"Gripping . . . Entrancing . . . A completely involving mystery cleverly tied in with several fairy tales."
— Booklist

"Goodman establishes herself as a writer to watch in the field of literary thrillers."
— Library Journal (Starred review)

"Mystery, folklore, a thoroughly modern romance, a strong sense of place, and a winning combination of erudition and accessibility make this second novel a treat."
— Publishers Weekly



The Drowning Tree

"Deftly plotted and certainly intriguing . . . infused with the sinister aura of its setting . . . The Drowning Tree has its twists and shudders."
— New York Daily News

"[A] captivating literary mystery of secrets old and new."
— Publishers Weekly

"Goodman's early promise comes to full flower in this work. . . . A novel full of surprises."
— The Denver Post



Arcadia Falls

"Addictive . . . Goodman delivers an engaging, original story."
— The Boston Globe

"Gracefully written and engaging . . . Goodman specializes in atmospheric literary thrillers, and her newest book . . . is an especially fine specimen of its type."
— The Denver Post

"[Goodman] gives her many fans a new dose of what she does best: good storytelling, with velvet swaths of Gothic mist and fairy-tale eeriness."
— The Plain Dealer

"[A] moving story of mothers and daughters and the hard choices women must make . . . Goodman combines gripping suspense with strong characters and artistic themes. Those who read Anita Shreve or Jodi Picoult are likely to become fans."
— Library Journal

"A thriller that feels so real you literally will shiver along with the characters as they battle the harsh winter cold while trying to solve a murder…Upstate New York Noir… RIVER ROAD is a great literary thriller that takes a tragic event on an icy, dark, winding country road and spins it out like great Greek drama."
— Book Report Network

"River Road is a must read for mystery novel enthusiasts. Author Carol Goodman's vivid winter setting and surreal imagery enhance this mystery filled with hauntings and troubles of the past and present."
— San Diego Book Review