Why Dinosaurs Matter (TED Books) (Hardcover)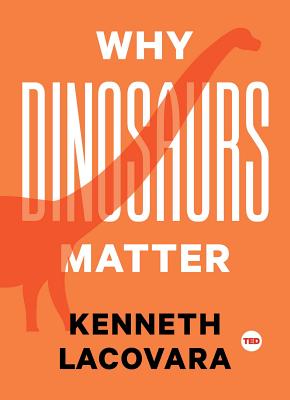 $18.69
Email or call for price.
Description
---
What can long-dead dinosaurs teach us about our future? Plenty, according to paleontologist Kenneth Lacovara, who has discovered some of the largest creatures to ever walk the Earth.

By tapping into the ubiquitous wonder that dinosaurs inspire, Lacovara weaves together the stories of our geological awakening, of humanity's epic struggle to understand the nature of deep time, the meaning of fossils, and our own place on the vast and bountiful tree of life.

Go on a journey––back to when dinosaurs ruled the Earth––to discover how dinosaurs achieved feats unparalleled by any other group of animals. Learn the secrets of how paleontologists find fossils, and explore quirky, but profound questions, such as: Is a penguin a dinosaur? And, how are the tiny arms of T. rex the key to its power and ferocity?

In this revealing book, Lacovara offers the latest ideas about the shocking and calamitous death of the dinosaurs and ties their vulnerabilities to our own. Why Dinosaurs Matter is compelling and engaging—a great reminder that our place on this planet is both precarious and potentially fleeting. "As we move into an uncertain environmental future, it has never been more important to understand the past."
About the Author
---
Dr. Kenneth Lacovara has unearthed some of the largest dinosaurs ever to walk our planet, including the super-massive Dreadnoughtus, which at sixty-five tons weighs more than seven T. rex. Through his work, blending exploration with the latest techniques from medicine and engineering, Lacovara portrays dinosaurs as vigorous, competent creatures—the adaptable champions of an age.

Lacovara is sought around the world for his ability to bring the wonders of science and the thrill of discovery to a wide range of audiences. "He's got a way of illuminating the bigger picture, of somehow turning 'why' into wonder. It's not just that he's speaking about what happened way back when, but what it might mean for us today." Says Chris Anderson, Curator of TED.

He has appeared in many television documentaries and his discoveries have landed him three times in Discover magazine's 100 Top Science Stories of the year and in Time's Top Stories of 2014. Lacovara was named by Men's Journal as one of "The Next Generation of Explorers" and he is an elected fellow of the prestigious Explorers Club in New York.

Kenneth Lacovara is the founder and director of the Edelman Fossil Park of Rowan University in New Jersey. Why Dinosaurs Matter is his first book.
Praise For…
---
"This is a dinosaur book with a difference. In lyrical prose Kenneth Lacovara shows how an understanding of the past helps to understand the present. The dinosaurs played no role in the great extinction that ended their era: we, on the other hand, are playing a major part in the extinction that is taking place today. And unless we change our ways, if we continue destroying the natural world, this will lead inevitably to our own extinction. But unlike the dinosaurs we have the power to turn things around."—Dr. Jane Goodall, DBE, conservationist, founder of the Jane Goodall Institute, and UN Messenger of Peace

"Kenneth Lacovara LOVES Dinosaurs, LOVES science and truly LOVES telling you about it. Few nonfiction writers wield words with more poetic and potent affection for their subject. Ken's deep scholarship and clear enjoyment of his subject always makes ME feel smarter. A man obsessed not just with his subject matter, but with showing us how looking into our deep past can illuminate our future."—Adam Savage, maker and host of MythBusters

"Majestic, awe-inspiring--and deeply humbling. Kenneth Lacovara reveals how dinosaurs have changed how we understand time, the world, and ourselves."—Dr. Alice Roberts, anatomist and anthropologist, television presenter, author, and professor.

"Kenneth Lacovara challenges our ideas about dinosaurs and shows how the past can shine a light on today's world. Dinosaurs, it turns out, were not lumbering, old, has-beens. They were the energetic champions of their age. This beautifully written book is simply mind-blowing. You'll never look at dinosaurs, or think about the past, in quite the same way. Bravo!" —Dara Torres, Five-time Olympic swimmer, twelve-time Olympic medalist, mother, model, TV personality, and speaker.

"This is a great book."—Ira Flatow, host of Science Friday

"The book is great for young adults and curious grown-ups who never got to take that geology or Dinosaurs 101 class in college." —Laura Geggel, Senior Writer, Live Science

"A dinosaur elegy. A great read! Captures the magic of studying dinosaurs with some beautiful poetic prose." —Dr. Stephen Brusatte, author, television presenter, and paleontologist at the University of Edinburgh