Big Summer: A Novel (Paperback)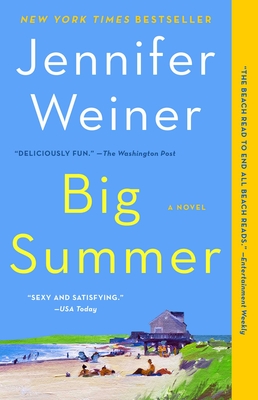 Description
---
AN INSTANT NEW YORK TIMES BESTSELLER

"Sexy and satisfying, Big Summer is the perfect quarantine read." —USA TODAY

"The beach read to end all beach reads." —Entertainment Weekly

"Big fun, and then some. It's empowering and surprising—a reminder to put down the phone and enjoy each moment for what it is." —The Washington Post

A deliciously funny, remarkably poignant, and simply unputdownable novel about the power of friendship, the lure of frenemies, and the importance of making peace with yourself through all life's ups and downs. From the #1 New York Times bestselling author of Good in Bed and Best Friends Forever, Big Summer is the perfect escape with one of the most lovable heroines to come to the page in years.

Six years after the fight that ended their friendship, Daphne Berg is shocked when Drue Cavanaugh walks back into her life, looking as lovely and successful as ever, with a massive favor to ask. Daphne hasn't spoken one word to Drue in all this time—she doesn't even hate-follow her ex-best friend on social media—so when Drue asks if she will be her maid-of-honor at the society wedding of the summer, Daphne is rightfully speechless.

Drue was always the one who had everything—except the ability to hold onto friends. Meanwhile, Daphne's no longer the same self-effacing sidekick she was back in high school. She's built a life that she loves, including a growing career as a plus-size Instagram influencer. Letting glamorous, seductive Drue back into her life is risky, but it comes with an invitation to spend a weekend in a waterfront Cape Cod mansion. When Drue begs and pleads and dangles the prospect of cute single guys, Daphne finds herself powerless as ever to resist her friend's siren song.

A sparkling novel about the complexities of female relationships, the pitfalls of living out loud and online, and the resilience of the human heart, Big Summer is a witty, moving story about family, friendship, and figuring out what matters most.
About the Author
---
Jennifer Weiner is the #1 New York Times bestselling author of eighteen books, including Good in Bed, That Summer, and an essay collection, Hungry Heart: Adventures in Life, Love, and Writing. A graduate of Princeton University and contributor to the New York Times Opinion section, Jennifer lives with her family in Philadelphia. Visit her online at JenniferWeiner.com.
Praise For…
---
ADVANCE PRAISE FOR BIG SUMMER:

"Big Summer is the perfect beach read, but one that's filled with thoughtful ideas about how we live our lives online and the nature of friendship. Get ready for another big-hearted novel by Jennifer Weiner." —PopSugar

"Weiner's story of female friendships (after Mrs. Everything) mixes a splash of romance, a dash of humor, and a pinch of mystery to create a deliciously bloody poolside cocktail. Weiner's surprising tale is hard to put down." —Publishers Weekly

"If you love Jennifer Weiner, you'll love this one. And if you're a newbie, start here." —Kirkus Reviews (starred)

"Jennifer Weiner writes tremendously enjoyable books that hit me in the same pleasure center as romantic comedies do, so I'm very excited for her latest novel, set in the midst of a 'lavish society wedding' on Cape Cod. Friendship, weddings, and rich people being weird? Obviously I am in." —Literary Hub

"Big Summer is a big, fun summer read. Weiner made her mark chronicling the relationships of young women, and her return to that arena will garner lots of attention." —Booklist

PRAISE FOR MRS. EVERYTHING:

"Weiner has always been a gifted novelist and a powerful essayist. In 'Mrs. Everything,' she brings the best of both worlds to the page, holding up the prism of choice and letting the light shine through from every angle.... If you have time for only one book this summer, pick this one."
— New York Times Book Review

"Readers will flock to this ambitious, nearly flawless novel . . . Weiner asks big questions about how society treats women in this slyly funny, absolutely engrossing novel that is simultaneously epic and intimate."
— Booklist (starred review)

"Weiner brilliantly crafts ths heartwrenching multigenerational tale of love, loss, and family . . . Weiner's talent for characterization, tight pacing, and detail will thrill her fans and easily draw new ones into her orbit. Her expert handling of difficult subjects will force readers to examine their own beliefs and consider unexpected nuances. Weiner tugs every heartstring with this vivid tale."
— Publishers Weekly (starred review)

"Jennifer Weiner has created a novel for the ages in Mrs. Everything, which is as impressive as it is ambitious… a skillfully rendered and emotionally rich family saga… an unapologetic feminist novel, fully fleshing out the pernicious effects of patriarchy… Weiner shows that big, expansive social novels are not only still possible in our fragmented society but perhaps necessary. Mrs. Everything is a great American novel, full of heart and hope."
— Shelf Awareness

"Her most sprawling and intensely personal novel to date."
— Entertainment Weekly

"A topical novel about sisterhood, heartache, hope, and womanhood that takes readers through the 'herstory' of the second half of the 20th century."
— Bustle

"A sprawling story about two sisters growing up, apart, and back together . . . A poignant reminder of both the strides women have amde since the 1950s and teh barriers taht still hold them back. An ambitious look at how women's roles have changed--and stayed the same--over the last 70 years."
— Kirkus Reviews

"Weiner brings us another winner, maybe even her best book yet. A wonderful, absorbing novel skillfully woven with social critique, it's comparable to books by her more heralded male contemporaries (yes, Jonathan Franzen)."
— AARP Summer Book Preview

"Simply unputdownable."
— Good Housekeeping

"Jennifer Weiner is the master of richly told page-turners about complicated and likable women."
— Refinery 29

"You won't want this book to end as you laugh, cry, and root for these characters as if they were a part of your own family. MRS. EVERYTHING is Weiner's best book yet."
— PopSugar, "The 34 Best New Books to Put in Your Beach Bag This Summer"

"Clever and empowering." —People

"The perfect beach read . . . A funny and tender examination of female friendship in all of its messy glory."—PopSugar
We appreciate your continued support!
If you would like to make a donation to help us through CLICK HERE.