Simply Clean: The Proven Method for Keeping Your Home Organized, Clean, and Beautiful in Just 10 Minutes a Day (Paperback)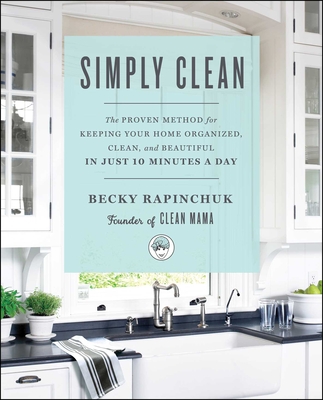 $21.99
This item is not currently available to order.
Description
---
From the cleaning and homekeeping expert and creator of the wildly popular Clean Mama blog comes a simple and accessible cleaning guide with a proven step-by-step schedule for tidying a home in just ten minutes a day.

Becky Rapinchuk, the "Clean Mama," understands that many people don't have the time, organizational skills, or homemaking habits to maintain a constantly clean and decluttered living space.

In Simply Clean, Becky will help you effortlessly keep a tidy house and build habits to become a neat person—no matter how messy you may naturally be! Simply Clean features:

-A 7-Day Simply Clean Kick Start and the 28-Day Simply Clean Challenge, to turn cleaning from a chore into an effortless habit

-A designated catch-up day, so you'll never have to worry or stress when life gets in the way of cleaning

-Step-by-step tutorials for speed cleaning hard-to-clean spaces

-Dozens of recipes for organic, environmentally conscious cleaning supplies

-Many of Becky's famous checklists, schedules, and habit trackers

No matter how big your home or busy your schedule, the Simply Clean method can be customized to fit your life. It really is possible—in just ten minutes a day, you can create a cleaner, happier home.
About the Author
---
Becky Rapinchuk is a cleaning expert, a wife and mom to three, a successful entrepreneur, and a former art teacher. She's the blogger behind Clean Mama, the leading online homekeeping community, and advises the world's leading lifestyle brands—Martha Stewart, Real Simple, Better Homes & Gardens, SC Johnson, Bissell, and Scotch-Brite—on how to clean up life's little and big messes. She's also the go-to girl for the over twenty million readers who follow her online and buy her books, paper goods, and signature cleaning products.