Anxious People: A Novel (Paperback)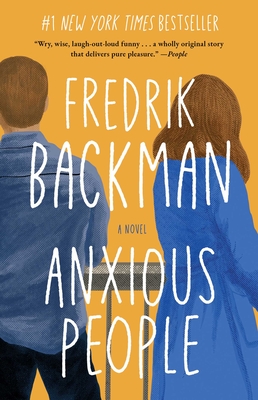 Staff Reviews
---
Backman's genius is the way he lulls the reader into believing this is a comic caper. It is on the surface the story of an inept bank robber and the apartment hunters the bank robber accidentally takes hostage. But every character is so much more than you are initially led to believe. As their secrets and sorrows rise to the surface, you begin to realize that we all have much we hide and all of us can be made to appear foolish.
— Lisa
I enjoyed this book in a way I hadn't experienced reading in ages. I paid no attention to what page number I was on. I was just IN the story--escaping, fully along for the ride. From the opening pages where Backman is interviewing the real estate agent, I was hooked. I always enjoy scenarios where multiple lives or storylines intertwine. I enjoyed his way of narrating: his careful reveal of relationships, and incredibly accurate way of capturing two people miscommunicating or rubbing each other the wrong way. I also appreciated how it felt like a tale crafted with intention. The ending was unrushed, and the characters written out with care. Many of my favorite books live within children's literature, as I often find something missing from books considered "adult". But Backman's story gave me the whimsy, humor, and heart I deeply needed.
— Sophie
September 2020 Indie Next List
---
"This book made me feel all the feels! It was sad, it was funny, it was hopeful, it was everything. The character development is incredible at revealing what's inside each of the characters, and the way their stories link and interconnect is genius. It's a story about sadness and hope and human connections. I couldn't put it down and barreled to the end, but now I am sad it's over. Anxious People is truly the best thing I've read in a long time!"
— Lisa Driban, Hockessin Book Shelf, Hockessin, DE
Description
---
An instant #1 New York Times bestseller, the new novel from the author of A Man Called Ove is a "quirky, big-hearted novel….Wry, wise and often laugh-out-loud funny, it's a wholly original story that delivers pure pleasure" (People).

Looking at real estate isn't usually a life-or-death situation, but an apartment open house becomes just that when a failed bank robber bursts in and takes a group of strangers hostage. The captives include a recently retired couple who relentlessly hunt down fixer-uppers to avoid the painful truth that they can't fix their own marriage. There's a wealthy bank director who has been too busy to care about anyone else and a young couple who are about to have their first child but can't seem to agree on anything. Add to the mix an eighty-seven-year-old woman who has lived long enough not to be afraid of someone waving a gun in her face, a flustered but still-ready-to-make-a-deal real estate agent, and a mystery man who has locked himself in the apartment's only bathroom, and you've got the worst group of hostages in the world.

Each of them carries a lifetime of grievances, hurts, secrets, and passions that are ready to boil over. None of them is entirely who they appear to be. And all of them—the bank robber included—desperately crave some sort of rescue. As the authorities and the media surround the premises, these reluctant allies will reveal surprising truths about themselves and set in motion a chain of events so unexpected that even they can hardly explain what happens next.

Proving once again that Backman is "a master of writing delightful, insightful, soulful, character-driven narratives" (USA TODAY), Anxious People "captures the messy essence of being human….It's clever and affecting, as likely to make you laugh out loud as it is to make you cry" (The Washington Post). This "endlessly entertaining mood-booster" (Real Simple) is proof that the enduring power of friendship, forgiveness, and hope can save us—even in the most anxious of times.
About the Author
---
Fredrik Backman is the #1 New York Times bestselling author of A Man Called Ove, My Grandmother Asked Me to Tell You She's Sorry, Britt-Marie Was Here, Beartown, Us Against You, and Anxious People, as well as two novellas and one work of nonfiction. His books are published in more than forty countries. He lives in Stockholm, Sweden, with his wife and two children. Connect with him on Facebook and Twitter @BackmanLand and on Instagram @Backmansk.
Praise For…
---
"Backman again captures the messy essence of being human...It's clever and affecting, as likely to make you laugh out loud as it is to make you cry." —Washington Post

"Backman's latest novel hits the sweet spot between profoundly insightful and preposterously funny….I hugged this book tightly with a smile on my face and tears in my eyes." –USA Today

"The perfect balance of heartwarming and heart-wrenching, and Fredrik Backman has a way of simply yet elegantly describing relationships. We can all be idiots, but we're still all human beings worthy of connection and love." –NPR

"A brilliant and comforting read." —Matt Haig, bestselling author of The Midnight Library

"An endlessly entertaining mood booster." —Real Simple

"This book examines how a shared event can change the course of many lives at once. And if you like strongly drawn characters and a mix of humor and heartbreak, this one's for you." –The Skimm

"[A] witty, lighthearted romp...Backman charms." —Publishers Weekly

"Wry, wise and often laugh-out-loud funny, it's a wholly original story that delivers pure pleasure." —People

"A deeply funny and warm examination of how individual experiences can bring a random group of people together. Backman reveals each character's many imperfections with tremendous empathy, reminding us that people are always more than the sum of their flaws." —BookPage

"[A] tight-knit, surprise-filled narrative... the brisk, absorbing action prompts meditation on marriage, parenting, responsibility, and global economic pressures. Comedy, drama, mystery, and social study, this novel is undefinable except for the sheer reading pleasure it delivers. Highly recommended."—Library Journal (starred review)

"Backman's latest novel focuses on how a shared event can change the course of multiple people's lives even in times of deep and ongoing anxiousness. A story with both comedy and heartbreak sure to please Backman fans." —Kirkus Review

"Funny, compassionate and wise...an absolute joy." —AJ Pearce, author of Dear Mrs. Bird