The Age of Walls: How Barriers Between Nations Are Changing Our World (Politics of Place #3) (Hardcover)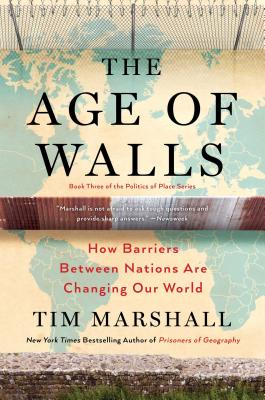 $26.00
This item is not currently available to order.
Other Books in Series
This is book number 3 in the Politics of Place series.
Description
---
Tim Marshall, the New York Times bestselling author of Prisoners of Geography, analyzes the most urgent and tenacious topics in global politics and international relations by examining the borders, walls, and boundaries that divide countries and their populations.

The globe has always been a world of walls, from the Great Wall of China to Hadrian's Wall to the Berlin Wall. But a new age of isolationism and economic nationalism is upon us, visible not just in Trump's obsession with building a wall on the Mexico border or in Britain's Brexit vote but in many other places as well. China has the great Firewall, holding back Western culture. Europe's countries are walling themselves against immigrants, terrorism, and currency issues. South Africa has heavily gated communities, and massive walls or fences separate people in the Middle East, Korea, Sudan, India, and other places around the world.

In fact, at least sixty-five countries, more than a third of the world's nation-states, have barriers along their borders. There are many reasons why walls go up, because we are divided in many ways: wealth, race, religion, and politics, to name a few. Understanding what is behind these divisions is essential to understanding much of what's going on in the world today.

As with Marshall's first two books, The Age of Walls is a brisk read, divided by geographic region. He provides an engaging context that is often missing from political discussion and draws on his real life experiences as a reporter from hotspots around the globe. He examines how walls (which Marshall calls "monuments to the failure of politics"), borders, and barriers have been shaping our political landscape for hundreds of years, and especially since 2001, and how they figure in the diplomatic relations and geo-political events of today.
About the Author
---
Tim Marshall is a leading authority on foreign affairs with more than thirty years of reporting experience. He was diplomatic editor at Sky News and before that worked for the BBC and LBC/IRN radio. He has reported from forty countries and covered conflicts in Croatia, Bosnia, Macedonia, Kosovo, Afghanistan, Iraq, Lebanon, Syria, and Israel. He is the author of Prisoners of Geography: Ten Maps That Explain Everything About the World; The Age of Walls: How Barriers Between Nations Are Changing Our World; and A Flag Worth Dying For: The Power and Politics of National Symbols. He is founder and editor of the current affairs site TheWhatandtheWhy.com.
Praise For…
---
"Marshall is a skilled explainer of the world as it is, and geography buffs will be pleased by his latest." —Kirkus Reviews

"A timely and exhilarating clamber over the walls of history." —Peter Frankopan, author of The Silk Roads



"A readable primer to many of the biggest problems facing the world." —Daily Express (UK)

"Accomplished, well researched and pacey … for anyone who wants to look beyond the headlines and explore the context of some of the biggest challenges facing the world today, it is a fascinating and fast read" —City AM (UK)

Praise for Tim Marshall and the New York Times Bestseller Prisoners of Geography

"[Marshall] writes with the cool drollery that characterized the work of Christopher Hitchens or Simon Winchester." —USA Today

"Fans of geography, history and politics (and maps) will be enthralled."
—Fort Worth Star-Telegram

"Marshall's insistence on seeing the world through the lens of geography compels a fresh way of looking at maps—not just as objects for orientation or works of art, but as guideposts to the often thorny relations between nations."
—New York Times Book Review

"Marshall is excellent on some of the highways and byways of geopolitics."
—Financial Times

"An incisive, meticulous survey of humanity's physical barriers...this enlightening shred assessment of the walls that separate us proves that there is actually far more that unites us." —Booklist, starred review