Holding Back the River: The Struggle Against Nature on America's Waterways (Hardcover)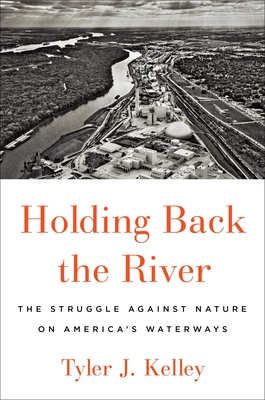 Description
---
A revelatory work of reporting on the men and women wrestling to harness and preserve America's most vital natural resource: our rivers.

The Mississippi. The Missouri. The Ohio. America's great rivers are the very lifeblood of our country. We need them for nourishing crops, for cheap bulk transportation, for hydroelectric power, for fresh drinking water. Rivers are also part of our mythology, our collective soul; they are Mark Twain, Led Zeppelin, and the Delta Blues. But as infrastructure across the nation fails and climate change pushes rivers and seas to new heights, we've arrived at a critical moment in our battle to tame these often-destructive forces of nature.

Tyler J. Kelley spent two years traveling the heartland, getting to know the men and women whose lives and livelihoods rely on these tenuously tamed streams. The result, Holding Back the River, is a deeply human exploration of how our centuries-long dream of conquering and shaping this vast network of waterways squares with the reality of an indomitable natural world.

On the Illinois-Kentucky border, we encounter Luther Helland, master of the most important—and most decrepit—lock and dam in America. This old dam, at the tail end of the Ohio River, was scheduled to be replaced in 1998, but twenty years and $3 billion later, its replacement still isn't finished. As the old dam crumbles and commerce grinds to a halt, Helland and his team must risk their lives, using steam-powered equipment and sheer brawn, to raise and lower the dam as often as ten times a year.

In Southeast Missouri, we meet Twan Robinson, who lives in the historically Black village of Pinhook. As a super-flood rises on the Mississippi, she learns from her sister that the US Army Corps of Engineers is going to blow up the levee that stands between her home and the river. With barely enough notice to evacuate her elderly mother and pack up a few of her own belongings, Robinson escapes to safety only to begin a nightmarish years-long battle to rebuild her lost community.

Atop a floodgate in central Louisiana, we're beside Major General Richard Kaiser, the man responsible for keeping North America's greatest river under control. Kaiser stands above the spot where the Mississippi River wants to change course, abandoning Baton Rouge and New Orleans, and following the Atchafalaya River to the sea. The daily flow of water from one river to the other is carefully regulated, but something else is happening that may be out of Kaiser and the Corps' control.

America's infrastructure is old and underfunded. While our economy, society, and climate have changed, our levees, locks, and dams have not. Yet to fix what's wrong will require more than money. It will require an act of imagination. Meticulously researched and as lively as it is informative, Holding Back the River brings us into the lives of the Americans who grapple with our mighty rivers and, through their stories, suggests solutions to some of the century's greatest challenges.
About the Author
---
Tyler J. Kelley is a journalist who has written for the New York Times, The Wall Street Journal, and The New Yorker among other publications. Kelley currently teaches at The New School in the Journalism + Design program. His previous projects include the documentary film Following Seas, codirected with his wife Araby Kelley. They live with their son in Brooklyn.
Praise For…
---
"With careful, artful reporting and an instinct for the plot lines laid out by flowing water, Tyler J. Kelley has written a highly readable book. He takes two important subjects—the middle part of our country, and its water-related infrastructure—and shows how fascinating they are. Holding Back the River is a wonderful achievement."
—Ian Frazier, author of Great Plains and On the Rez

"Tyler Kelley has written on the one hand a good and sometimes painful story—or stories—showing us at our most human, and on the other an insightful and important examination of our policy toward rivers. This is a fine book."
—John M. Barry, author of Rising Tide: The Great Mississippi Flood of 1927 and How it Changed America

"What a mess we've made! How hard can it be to let water run downhill? Yet here is Tyler J. Kelley's riveting account of the consequences of human attempts to channel, divert, confine, and conquer the mid-continental plumbing of North America. Not an easy book to write, this is a story everyone needs to read, especially as we blunder further into the great unknown of climate change."
—Eric W. Sanderson, author of Mannahatta: A Natural History of New York City and Terra Nova: The New World After Oil, Cars, and Suburbs

"In vivid detail . . . [journalist Tyler J. Kelley] describes the delicate dance performed every day to ferry massive amounts of goods along these waterways and relays how they came to play such an important role in America's economy. . . . Holding Back the River is a riveting depiction of an issue that is not going away anytime soon."
—BookPage

"A sweeping examination of geology, geography, social history, and economics, delivered in readable fashion."
—Booklist

"An illuminating look at the people and policies working to tame America's rivers . . . with meticulous reporting and insightful analysis. . . . Anyone concerned with the myriad issues surrounding the manipulation of waterways will want to take a look."
—Publishers Weekly

"A sobering tour of aging infrastructure built under different circumstances in the first half of the 20th century . . . Kelley's engaging work will draw in those interested in personal stories of the effects of climate change, and use of natural resources."
—Library Journal

"A gimlet-eyed look at America's rapidly deteriorating riparian infrastructure . . . Solid journalism on a pressing problem that is likely to get far worse, and soon."
—Kirkus Reviews

"In Holding Back the River, journalist Tyler J. Kelley travels the country to speak with people whose lives and livelihoods are dependent upon these crumbling structures, to show just how tenuous humanity's relationship with rivers has become."
—LitHub

"We like to think that we have control over our waterways and what floats on them but focusing on the nation's most-relied-upon rivers, this book introduces readers to the people whose lives depend on the rivers in many ways, and it exposes the mythology and the truth of what could happen if the dams, locks, or gates fail, ecologically, economically, and to society. Those structures are aging. Learn what's being done about them."
—Terri Schlichenmeyer
We appreciate your continued support!
If you would like to make a donation to help us through CLICK HERE.