The New Jim Crow: Mass Incarceration in the Age of Colorblindness (MP3 CD)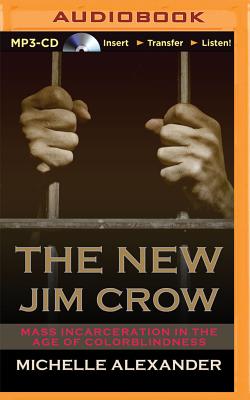 Email us for price & availability: info@oblongbooks.com
Special Order - Subject to Availability
Staff Reviews
---
Utterly deserved in its reputation as required reading. Alexander presents a statistically-backed, clearly and starkly outlined examination of the police and prison system's use as a tool to maintain racial inequality and to enact violence on Black and brown Americans. I thought of myself as relatively aware of this subject, and yet this book shocked me over and over. You cannot fully understand how America functions if you have not read this book.
— Anna
March 2010 Indie Next List
---
"In The New Jim Crow, Michelle Alexander tirelessly researches both the legal history of America's Jim Crow past and the current legal policies that contribute to the mass incarceration of black people. The text adds significantly to scholarship that contextualizes rates of incarceration among blacks and critiques of social and economic inequality."
— Bruce Smith, Colorado State University Bookstore, Fort Collins, CO
Description
---
In the era of colorblindness, it is no longer socially permissible to use race, explicitly, as a justification for discrimination, exclusion, and social contempt. Yet, as legal star Michelle Alexander reveals, today it is perfectly legal to discriminate against convicted criminals in nearly all the ways that it was once legal to discriminate against African Americans. Once you're labeled a felon, the old forms of discrimination--employment discrimination, housing discrimination, denial of the right to vote, denial of educational opportunity, denial of food stamps and other public benefits, and exclusion from jury service--are suddenly legal.
We appreciate your continued support!
If you would like to make a donation to help us through CLICK HERE.