Embattled River: The Hudson and Modern American Environmentalism (Hardcover)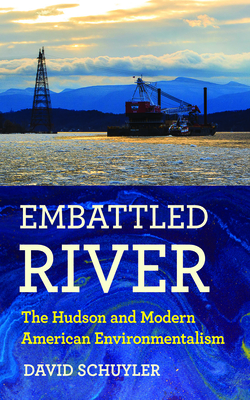 Description
---
In Embattled River, David Schuyler describes the efforts to reverse the pollution and bleak future of the Hudson River that became evident in the 1950s. Through his investigative narrative, Schuyler uncovers the critical role of this iconic American waterway in the emergence of modern environmentalism in the United States.
Writing fifty-five years after Consolidated Edison announced plans to construct a pumped storage power plant at Storm King Mountain, Schuyler recounts how a loose coalition of activists took on corporate capitalism and defended the river. As Schuyler shows, the environmental victories on the Hudson had broad impact. In the state at the heart of the story, the immediate result was the creation in 1970 of the New York State Department of Environmental Conservation to monitor, investigate, and litigate cases of pollution. At the national level, the environmental ferment in the Hudson Valley that Schuyler so richly describes contributed directly to the creation of the Environmental Protection Agency in 1970, the passage of the Clean Water Act in 1972, and the creation of the Superfund in 1980 to fund the cleanup of toxic-dumping sites.
With these legal and regulatory means, the contest between environmental advocates and corporate power has continued well into the twenty-first century. Indeed, as Embattled River shows, the past is prologue. The struggle to control the uses and maintain the ecological health of the Hudson River persists and the stories of the pioneering advocates told by Schuyler provide lessons, reminders, and inspiration for today's activists.
About the Author
---
David Schuyler is Arthur and Katherine Shadek Professor of the Humanities and American Studies, Franklin & Marshall College. Schuyler is author of numerous books, including the award-winning Sanctified Landscape.
We appreciate your continued support!
If you would like to make a donation to help us through CLICK HERE.