Thomas Cole's Refrain: The Paintings of Catskill Creek (Paperback)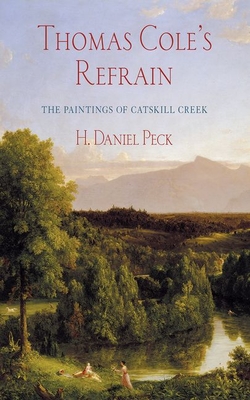 Description
---
Thomas Cole, an internationally renowned artist, centered his art and life in Catskill, New York. From his vantage point near the village, he cast his eyes on the wonders of the Catskill Mountains and the swiftly flowing Catskill Creek. These landscapes were sources of enduring inspiration for him.
Over twenty years, Cole painted one view of the Catskill Mountains at least ten times. Each work represents the mountains from the perspective of a wide river bend near Catskill, New York. No other scene commanded this much of the artist's attention. Cole's Catskill Creek paintings, which include works central to American nineteenth-century landscape art, are an integral series. In Thomas Cole's Refrain, H. Daniel Peck explores the patterns of change and permanence in the artist's depiction of a scene he knew first-hand. Peck shows how the paintings express the artist's deep attachment to place and region while illuminating his expansive imagination.
Thomas Cole's Refrain shows how Cole's Catskill Creek paintings, while reflecting concepts such as the stages of life, opened a more capacious vision of experience than his narrative-driven series, such as The Voyage of Life. Relying on rich visual evidence provided by paintings, topographic maps, and contemporary photographs, Peck argues that human experience is conveyed through Cole's embedding into a stable, recurring landscape key motifs that tell stories of their own. The motifs include enigmatic human figures, mysterious architectural forms, and particular trees and plants. Peck finds significant continuities--personal and conceptual--running throughout the Catskill Creek paintings, continuities that cast new light on familiar works and bring significance to ones never before seen by many viewers.
About the Author
---
H. Daniel Peck is John Guy Vassar, Jr., Professor Emeritus of English at Vassar College. He has chaired the Modern Language Association's Division on Nineteenth-century American Literature and has published and spoken widely on the literary and visual art of the Romantic era. Peck is the author and editor of several books, including Thoreau's Morning Work.