Confessions of a Free Speech Lawyer: Charlottesville and the Politics of Hate (Hardcover)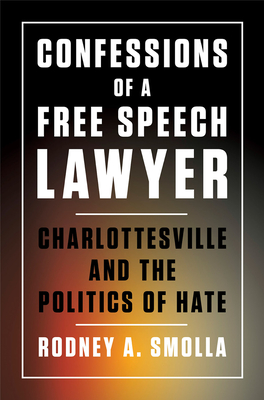 Description
---
In the personal and frank Confessions of a Free Speech Lawyer, Rodney A. Smolla offers an insider's view on the violent confrontations in Charlottesville during the summer of hate. Blending memoir, courtroom drama, and a consideration of the unhealed wound of racism in our society, he shines a light on the conflict between the value of free speech and the protection of civil rights.
Smolla has spent his career in the thick of these tempestuous and fraught issues, from acting as lead counsel in a famous Supreme Court decision challenging Virginia's law against burning crosses, to serving as co-counsel in a libel suit brought by a fraternity against Rolling Stone magazine for publishing an article alleging that one of the fraternity's initiation rituals included gang rape. Smolla has also been active as a university leader, serving as dean of three law schools and president of one and railing against hate speech and sexual assault on US campuses.
Well before the tiki torches cast their ominous shadows across the nation, the city of Charlottesville sought to relocate the Unite the Right rally; Smolla was approached to represent the alt-right groups. Though he declined, he came to wonder what his history of advocacy had wrought. Feeling unsettlingly complicit, he joined the Charlottesville Task Force, and he realized that the events that transpired there had meaning and resonance far beyond a singular time and place. Why, he wonders, has one of our foundational rights created a land in which such tragic clashes happen all too frequently?
About the Author
---
Rodney A. Smolla is Dean and Professor of Law at the Delaware Law School of Widener University and is the author of numerous books, including The Constitution Goes to College, Deliberate Intent, and Jerry Falwell v. Larry Flynt. He is a nationally known scholar and writer and has presented oral argument in state and federal courts across the country.