Kepler (Hardcover)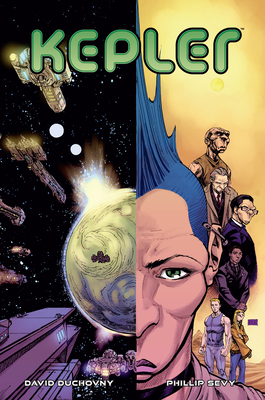 $19.99

Available in our Warehouse: Usually Ships in 3-8 Days
Description
---
An allegorical sci-fi thriller in the tradition of Planet of the Apes!

The graphic novel debut of critically-acclaimed actor, author and musician David Duchovny!

When the Benadem, benevolent space gods, return to KEPLER, a planet where homo sapiens went extinct and all other hominid species thrived, their arrival threatens to plunge the world into chaos.

West, a 16-year-old Neanderthal girl, is thrust into the conflict and is the only hope to prevent extinction. Her efforts, unique because of her mixed hominid heritage, not only change her life, but also reveal the merciless ambition and identity of the gods themselves.

In the tradition of Planet of the Apes, KEPLER is an allegorical thriller of environmental disaster, colonialism, religion, history, and adolescence told through the eyes of a lonely outsider.
About the Author
---
David Duchovny is an award-winning actor, writer, director, New York Times Best-Selling author, and singer-songwriter, known for his iconic roles as FBI Agent Fox Mulder in FOX's The X-Files and Hank Moody in Showtime's Californication.

With an acting career spanning over two decades, Duchovny is a two-time Golden Globe-winner and four-time Emmy nominee. He can currently be seen in a brilliant guest-starring role in Netflix's The Chair created by Amanda Peet starring Sandra Oh. Upcoming, he will be seen alongside Karen Gillan, Leslie Mann and Fred Armisen in the highly anticipated Judd Apatow Netflix comedy, The Bubble, releasing on April 1, 2022, and in the Kenya Barris Netflix comedy, You People, alongside Jonah Hill, Eddie Murphy and Julia Louis-Dreyfus.

Duchovny is a prolific author whose fourth novel, Truly Like Lightning, was published on February 2, 2021. Truly Like Lightning is a heartbreaking meditation on family, religion, sex, greed, human nature, and the vanishing environment of an ancient desert. His previous novels include: the New York Times Best-Seller Holy Cow, Bucky F*cking Dent, and Miss Subways. Each of Duchovny's books have been published by the venerable Farrar, Straus & Giroux. Duchovny also recently released his first Audible Original, The Reservoir, that he both wrote and performed. Set in Manhattan in the early days of the pandemic, The Reservoir is a brilliantly conceived, darkly funny caper of conspiracy and madness that probes the nature of "virality" in our age. Akashic Books will publish the hardcover of The Reservoir alongside Duchovny's chapbook Poems, Lyrics, Flip on June 7, 2022.

Off the success of Truly Like Lightning, Duchovny is partnering with Showtime to develop a television series based on the novel. He will co-write and executive produce the adaptation with Tyler Nilson and Michael Schwartz (The Peanut Butter Falcon), in which he will also star.

As a musician, Duchovny has released three studio albums, Hell or Highwater (2015), Every Third Thought (2018), Gesture/and (2021) and toured globally.

Duchovny grew up in New York City. He graduated from Princeton University summa cum laude with a bachelor's degree in English literature. He then went on to receive an ABD in English Literature from Yale University.