Oh My Goddess! Omnibus Volume 7  (Paperback)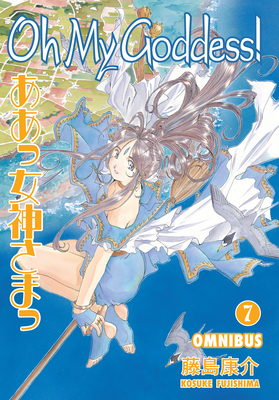 $29.99

Coming Soon - Available for Pre-Order Now
Description
---
Ever since a cosmic phone call brought the literal young goddess Belldandy into college student Keiichi's residence, his personal life has been turned upside-down, sideways, and sometimes even into strange dimensions!

Domestic drama takes on a whole new scale—literally, as Skuld's attempt to solve their storage problems leaves Belldandy and Keiichi trapped in a living room that's now infinite square feet big! Once those household worries are wrapped up, the couple hit the road on a tandem bike for a late-night race to challenge the ghost…of a motorcycle, while back on campus the mad Dr. Koichi "Moreau" Morizumi drafts Keiichi and Belldandy into being the lab assistants for his latest scheme to build a walking robot that proves four legs bad, two legs much, much worse!

Collects Oh My Goddess! Chapters 105-123.
About the Author
---
Kosuke Fujishima is a Japanese manga artist. Born in Chiba, Japan, he first came to public attention as an editor of Puff magazine, his first job after completing high school. Fujishima originally intended to be a draftsman, but took the editorial role after failing to get a drafting apprenticeship. He later became assistant to manga artist Tatsuya Egawa in the production of the Making Be Free! manga, and in 1986 began his first original manga series You're Under Arrest. His second manga series Oh My Goddess!, also translated as Ah! My Goddess, is extremely popular and has made Fujishima a household name in Japan. In addition, he is also well known as the character designer for several games in the Tales RPG video game series and Sakura Wars. The author lives in Tokyo, Japan.