Peter Pan: Peter and Wendy and Peter Pan in Kensington Gardens (Paperback)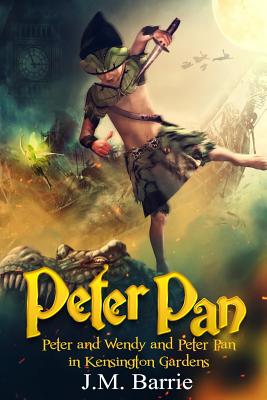 $8.63

Available in our Warehouse: Usually Ships in 3-8 Days
Description
---
Peter Pan
Peter and Wendy and Peter Pan in Kensington Gardens Peter Pan is a character created by Scottish novelist and playwright J. M. Barrie. A mischievous boy who can fly and never grows up, Peter Pan spends his never-ending childhood having adventures on the small island of Neverland as the leader of his gang, the Lost Boys, interacting with mermaids, Native Americans, fairies, pirates, and occasionally ordinary children from the world outside Neverland. In addition to two distinct works by Barrie himself, the character has been featured in a variety of media and merchandise, both adapting and expanding on Barrie's works. Peter and Wendy
J. M. BARRIE (1860 - 1937)
Peter and Wendy tells the classic story of Peter Pan, a mischievous little boy who can fly, and his adventures on the island of Neverland with Wendy and her brothers, the fairy Tinker Bell, the Lost Boys, the Indian princess Tiger Lily, and the pirate Captain Hook. Peter Pan in Kensington Gardens
J. M. BARRIE (1860 - 1937)
When he is seven days old, Peter Pan flies away from his mother (forgetting that he is no longer a bird and therefore cannot fly), comes to live in Kensington Gardens, and acquires a goat.
About the Author
---
J. M. Barrie (1860 - 1937) Sir James Matthew Barrie, 1st Baronet, OM (9 May 1860 - 19 June 1937) was a Scottish author and dramatist, best remembered today as the creator of Peter Pan.