Sorcery of Thorns (Compact Disc)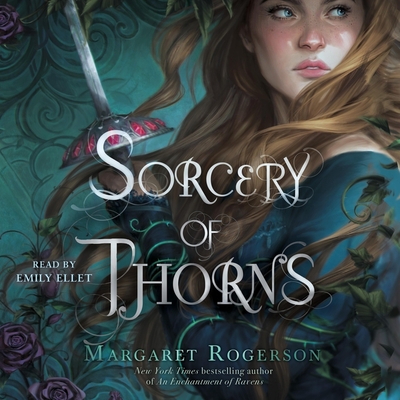 $49.99
Available in our Warehouse: Usually Ships in 3-8 Days
Staff Reviews
---
If ENCHANTMENT OF RAVENS marked the beginning of Margaret Rogerson's fantasy career, SORCERY OF THORNS proves that she's here to stay—and that she should be on your must-buy list. In SORCERY OF THORNS, Elisabeth is an apprentice in the Great Library, raised there as a child, born to tend its halls—until a Malifect, a book turned into a demon, murders the library's Director and tries to destroy a nearby town. With Elisabeth blamed, she's forced out of the library and into an unsteady—and swoonworthy—alliance with sorcerer Nathaniel Thorn, hoping to unveil the truth before all the Great Libraries are destroyed. SORCERY OF THORNS is everything a good fantasy should be: fun, romantic, adventurous, magical. I could happily live in the lush, fantastical worlds that Rogerson creates—more, please!
— Nicole
Summer 2019 Kids Indie Next List
---
"A beautiful, dark, atmospheric YA fantasy that kept me guessing and my heart pounding, Sorcery of Thorns is set in a world where libraries are full of magical books that contain all the mysteries of the world. Elisabeth Scrivener is an awesome, strong, brave character who doesn't need rescuing and is determined to fight evil, even though her definitions of evil keep shifting as she discovers the truth. The love story is quirky, steamy, and not cheesy, which I loved, and I grew so attached to the characters and their struggles."
— Danica Ramgoolam, Townie Books, Crested Butte, CO
Description
---
"If you are looking for magic you will find it inside this book. Sorcery of Thorns is a bewitching gem, full of slow burning romance, loyal friendships, and extraordinary world building. I absolutely loved every moment of this story." --Stephanie Garber, #1 New York Times bestselling author of the Caraval series From the New York Times bestselling author of An Enchantment of Ravens comes an imaginative fantasy about an apprentice at a magical library who must battle a powerful sorcerer to save her kingdom.All sorcerers are evil. Elisabeth has known that as long as she has known anything. Raised as a foundling in one of Austermeer's Great Libraries, Elisabeth has grown up among the tools of sorcery--magical grimoires that whisper on shelves and rattle beneath iron chains. If provoked, they transform into grotesque monsters of ink and leather. She hopes to become a warden, charged with protecting the kingdom from their power. Then an act of sabotage releases the library's most dangerous grimoire. Elisabeth's desperate intervention implicates her in the crime, and she is torn from her home to face justice in the capital. With no one to turn to but her sworn enemy, the sorcerer Nathaniel Thorn, and his mysterious demonic servant, she finds herself entangled in a centuries-old conspiracy. Not only could the Great Libraries go up in flames, but the world along with them. As her alliance with Nathaniel grows stronger, Elisabeth starts to question everything she's been taught--about sorcerers, about the libraries she loves, even about herself. For Elisabeth has a power she has never guessed, and a future she could never have imagined.
We appreciate your continued support!
If you would like to make a donation to help us through CLICK HERE.