This Is How You Lose the Time War (Compact Disc)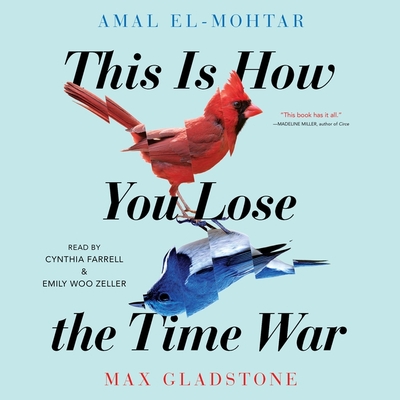 Staff Reviews
---
It's an age-old story: Red versus Blue. Technology versus the natural world. Shakespeare. Greek myth. Poetry and war. This story takes place through the ages, between two-time traveling agents who must braid and unbraid the fabric of time in an effort to usher in their opposing futures. How to begin a letter? How to begin a letter to your best enemy? I read this twice before finishing it. This book is a book to savor.
— Lafe
I don't think I have words that will do this book justice. Sublime. Delectable. Read in snippets or risk drowning in gorgeous prose.
— Nicole
Mind-bending sci fi pitting a technotopia against a nature based civilization. Both are equally willing to do anything to wipe out the other. Perfect setup for a powerful love story.
— Lisa
Description
---
Two time-traveling agents from warring futures, working their way through the past, begin to exchange letters--and fall in love in this thrilling and romantic book from award-winning authors Amal-El Mohtar and Max Gladstone.Among the ashes of a dying world, an agent of the Commandant finds a letter. It reads: Burn before reading. Thus begins an unlikely correspondence between two rival agents hellbent on securing the best possible future for their warring factions. Now, what began as a taunt, a battlefield boast, grows into something more. Something epic. Something romantic. Something that could change the past and the future. Except the discovery of their bond would mean death for each of them. There's still a war going on, after all. And someone has to win that war. That's how war works. Right? Cowritten by two beloved and award-winning sci-fi writers, This Is How You Lose the Time War is an epic love story spanning time and space.
We appreciate your continued support!
If you would like to make a donation to help us through CLICK HERE.