Eyes to the Wind: A Memoir of Love and Death, Hope and Resistance (Compact Disc)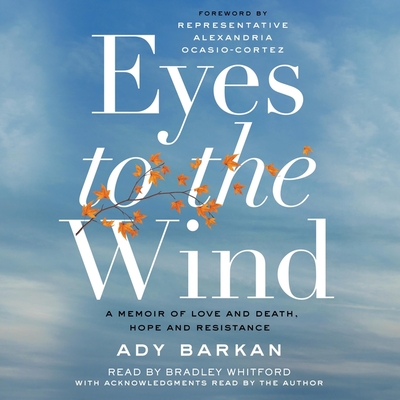 $39.99
Available in our Warehouse: Usually Ships in 3-8 Days
Staff Reviews
---
Whether you're seeking an uplifting read about finding shared meaning amidst devastating personal circumstances, a template for how to leave the world better than you found it, or a cache of grassroots organizing strategies, this inspiring memoir by one of progressive activism's leading lights delivers. With keen sensitivity and informed analysis, Barkan recounts his exhilarating journey from neophyte campus agitation to a game-changing clerkship during the landmark decision to reform NYC's stop-and-frisk program to a slew of nonprofit organizing efforts for racial, economic, and health justice--and plenty of bird-dogging craven politicians in between. Despite being struck down with ALS in 2016, he's continued to fight tirelessly for a more humane and equitable society.
— Ian
Description
---
In this inspirational and moving memoir--reminiscent of When Breath Becomes Air and The Bright Hour--activist Ady Barkan explores his life with ALS and how his diagnosis gave him a profound new understanding of his commitment to social justice for all. Ady Barkan loved taking afternoon runs on the California coast and holding his newborn son, Carl. But one day, he noticed a troubling weakness in his hand. At first, he brushed it off as carpal tunnel syndrome, but after a week of neurological exams and two MRIs, he learned the cause of the problem: amyotrophic lateral sclerosis, better known as ALS or Lou Gehrig's disease. At age 32, Ady was given just three to four years to live. Yet despite the devastating diagnosis, he refused to let his remaining days go to waste. Eyes to the Wind is a rousing memoir featuring intertwining storylines about determination, perseverance, and how to live a life filled with purpose and intention. The first traces Ady's battle with ALS: how he turned the initial shock and panic from his diagnosis into a renewed commitment to social justice--not despite his disability but because of it. The second, told in flashbacks, illustrates Ady's journey from a goofy political nerd to a prominent figure in the enduring fight for equity and justice who is "willing to give his] last breath to save our democracy" (CNN). From one of today's most vocal advocates for social justice, Eyes to the Wind is an evocative and unforgettable memoir about activism, dedication, love, and hope.
We appreciate your continued support!
If you would like to make a donation to help us through CLICK HERE.