The Girl Who Wouldn't Die (Hardcover)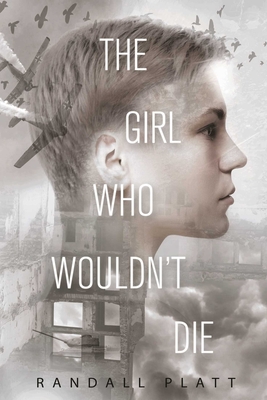 $16.99
This item is not currently available to order.
Description
---
It's 1939 in Poland, and Arab knows that standing up for anyone—especially her Jewish family—only paints a target on her back. So she plans to survive the Nazi occupation the way she always has: disguise herself as an Aryan boy, lead her street gang, and sell whatever she can steal.

But though Arab starts the war with the one goal of staying alive, others have different ideas for her. When a stranger asks for her help with a covert rescue mission, Arab has to make a choice. Trying to be a hero is a surefire way to get killed. But if she doesn't do it, who will?

Hard-hitting and unforgettable, The Girl Who Wouldn't Die is a story about survival, the necessity of resistance, and the hope that can be found when the world is at its darkest.
About the Author
---
Randall Platt writes fiction for adults, young adults, and those who don't own up to being either. Platt has been a full-time writer for more than twenty-five years. Her young-adult fiction has twice been awarded the WILLA Literary Award, has been awarded the Will Rogers Medallion, has won the Keystone State Reading Award, and has received honorable mentions for the Washington State Book Award and the PEN Center USA Literary Award.
Praise For…
---
"As timely as it is riveting, this gritty tale of one girl's extraordinary courage in the face of malignant evil grabs you by the heart and doesn't let go. Abra embodies the complexity, vulnerability, and tenacity of the human spirit, becoming a flesh-and-blood monument to love's power to triumph over tyranny. A transformative story of loss of innocence and redemption, The Girl Who Wouldn't Die will stay with you long after you put it down." —Tawni Waters, award-winning author of Beauty of the Broken

"An unforgettable read that illuminates genuine hope in a very dark world. In The Girl Who Wouldn't Die, Platt has worked literary magic that not only enthralls and entertains, but says as much about today as it does about the past. Nothing short of a masterpiece." —Gregg Olsen, #1 New York Times bestselling author

"A thrilling story of resistance. Set during World War II, The Girl Who Wouldn't Die is a tale for our times, and Abra is a heroine for the ages. My heart pounded from the very first page—I could not put this book down." —Kristin Elizabeth Clark, award-winning author of Freakboy

"A gripping, impactful story about the German invasion of Poland, told through the unique perspective of a young, street-smart Jewish girl who must decide if family bonds are worth the risk of trusting someone other than herself." —Kathleen Burkinshaw, author of The Last Cherry Blossom

"In fluid, almost contemporary dialogue and action, Randall Platt never flinches from the violent, heartbreaking realities of Nazi-occupied Europe . . . Riveting . . . brutal, beautiful."
—Shelf Awareness

"Readers will champion the scrappy, unconventional protagonist. . . . An intriguingly complex psychological study . . . heightened by and contrasted with the horrors of war, in which the worst crimes—those against humanity—are government policy. An intriguing addition to Holocaust fiction."
—Kirkus Reviews

"Written in taut, spine-tingling prose with characters you want to know, this book captures the fear . . . no, the terror of living in a fascist world."
—The Historical Novels Review

"As timely as it is riveting, this gritty tale of one girl's extraordinary courage in the face of malignant evil grabs you by the heart and doesn't let go. Abra embodies the complexity, vulnerability, and tenacity of the human spirit, becoming a flesh-and-blood monument to love's power to triumph over tyranny. A transformative story of loss of innocence and redemption, The Girl Who Wouldn't Die will stay with you long after you put it down." —Tawni Waters, award-winning author of Beauty of the Broken

"An unforgettable read that illuminates genuine hope in a very dark world. In The Girl Who Wouldn't Die, Platt has worked literary magic that not only enthralls and entertains, but says as much about today as it does about the past. Nothing short of a masterpiece." —Gregg Olsen, #1 New York Times bestselling author

"A thrilling story of resistance. Set during World War II, The Girl Who Wouldn't Die is a tale for our times, and Abra is a heroine for the ages. My heart pounded from the very first page—I could not put this book down." —Kristin Elizabeth Clark, award-winning author of Freakboy

"A gripping, impactful story about the German invasion of Poland, told through the unique perspective of a young, street-smart Jewish girl who must decide if family bonds are worth the risk of trusting someone other than herself." —Kathleen Burkinshaw, author of The Last Cherry Blossom

"In fluid, almost contemporary dialogue and action, Randall Platt never flinches from the violent, heartbreaking realities of Nazi-occupied Europe . . . Riveting . . . brutal, beautiful."
—Shelf Awareness

"Readers will champion the scrappy, unconventional protagonist. . . . An intriguingly complex psychological study . . . heightened by and contrasted with the horrors of war, in which the worst crimes—those against humanity—are government policy. An intriguing addition to Holocaust fiction."
—Kirkus Reviews

"Written in taut, spine-tingling prose with characters you want to know, this book captures the fear . . . no, the terror of living in a fascist world."
—The Historical Novels Review

"As timely as it is riveting, this gritty tale of one girl's extraordinary courage in the face of malignant evil grabs you by the heart and doesn't let go. Abra embodies the complexity, vulnerability, and tenacity of the human spirit, becoming a flesh-and-blood monument to love's power to triumph over tyranny. A transformative story of loss of innocence and redemption, The Girl Who Wouldn't Die will stay with you long after you put it down." —Tawni Waters, award-winning author of Beauty of the Broken

"An unforgettable read that illuminates genuine hope in a very dark world. In The Girl Who Wouldn't Die, Platt has worked literary magic that not only enthralls and entertains, but says as much about today as it does about the past. Nothing short of a masterpiece." —Gregg Olsen, #1 New York Times bestselling author

"A thrilling story of resistance. Set during World War II, The Girl Who Wouldn't Die is a tale for our times, and Abra is a heroine for the ages. My heart pounded from the very first page—I could not put this book down." —Kristin Elizabeth Clark, award-winning author of Freakboy

"A gripping, impactful story about the German invasion of Poland, told through the unique perspective of a young, street-smart Jewish girl who must decide if family bonds are worth the risk of trusting someone other than herself." —Kathleen Burkinshaw, author of The Last Cherry Blossom

"In fluid, almost contemporary dialogue and action, Randall Platt never flinches from the violent, heartbreaking realities of Nazi-occupied Europe . . . Riveting . . . brutal, beautiful."
—Shelf Awareness

"Readers will champion the scrappy, unconventional protagonist. . . . An intriguingly complex psychological study . . . heightened by and contrasted with the horrors of war, in which the worst crimes—those against humanity—are government policy. An intriguing addition to Holocaust fiction."
—Kirkus Reviews

"Written in taut, spine-tingling prose with characters you want to know, this book captures the fear . . . no, the terror of living in a fascist world."
—The Historical Novels Review