Unicorn Food: Rainbow Treats and Colorful Creations to Enjoy and Admire (Whimsical Treats) (Hardcover)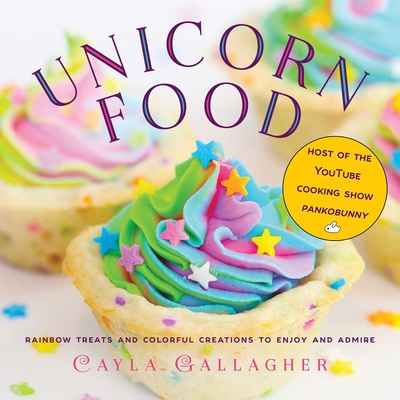 $19.99
This item is not currently available to order.
Description
---
Make any party extra sparkly and colorful with unforgettable flavor and color combinations that are out of this world. A rainbow of spectacular cakes, candies, chocolates, doughnuts, frozen treats, and more!
To maintain their magical glow, unicorns must stick to a diet of sugar, sparkle, and everything rainbow! Take a peek into their mythical world with this cookbook—filled with colorful cakes, cookies, and fantastical treats. Learn how to turn everyday desserts into rainbow delights and add a whimsical touch to your table.
Unicorn Food
features a variety of techniques to add color to your treats. Imagine:  
Cakes with unique, multicolored layers
The ultimate glittery doughnut
Rainbow champagne
Cupcakes that have rainbows bursting out from the center!
Not only will readers create beautiful desserts, they'll also acquire a fresh set of baking skills. The easy-to-follow instructions and tips ensure that both novice and expert bakers achieve perfect results every time—you'll learn how to bake the perfect vanilla cake with buttercream, then transform it into a rainbow! These recipes use classic techniques and ingredients, creating a delicious base for readers to experiment with and to create beautiful, unicorn-approved results.
Make any party extra special and prepare to be inspired and for your tummy to rumble. Vibrant photography and simple recipes combine to create a magical reading and baking experience!
About the Author
---
Cayla Gallagher is the host and creator of the YouTube channel pankobunny, an online cooking show where she creates weekly tutorials, teaching her subscribers how to turn everyday recipes into "edible cuteness"—colorful, eye-catching treats! With an audience of more than 300,000 followers across her social media platforms and more than 300 million views on Facebook, she strives to bring amusement and creativity to dinner tables all over the world. She was named one of Canada's next up- and- coming YouTube stars in 2016, and also sells pankobunny-themed treats on her Etsy shop.
Praise For…
---
"This no-bake cheesecake is colorful and fun. The hardest part is just waiting for it to set! . . . It uses only a handful of ingredients and has plenty of steps, like crushing cookies and mixing cream cheese, that are ideal for getting young children involved." —TODAY.com

"With a sweet tooth as big as my entire mouth, I am a huge fan of goodies! And there is no one who has a better handle on making sweets look as fun as they taste than Cayla Gallagher. Get ready to dive deep into a treasure trove of delectable tasty treats that might have you eating the pages of this book!" —Joel Comm, New York Times bestselling author

"Cayla creates the most magical treats in this truly enchanting, colorful, and festive book. You can't help but smile as you turn each page, to discover new and exciting recipes, perfect for any special occasion!" —YouTuber Lindsay Ann Bakes, Food Network's Cupcake Wars winner

"I might be a magician but nothing close to Cayla Gallagher's magical recipes in the kitchen. From rainbow cinnamon rolls to watermelon fugde. How does that even work?" —Julius Dein

"Filled with pastel and unicorn prettiness! There's a wide variety of sweets treats and recipes that are great for the novice or advanced baker." —YouTuber and blogger Christina, of Christina's Cupcakes

"I've always swooned over Cayla's beautifully shot videos on YouTube and Instagram and I'm thrilled that her easy-to-follow recipes have been compiled in this fabulous book. I'm sure my daughter will have a blast making these sweet unicorn treats when she's old enough, but until then, I'm making them for myself!" —Amber Spiegel of SweetAmbs and SweetAmbsCookies

"Innovative and adorable culinary creations."
—Forbes

*****

Praise for Cayla Gallagher's Recipes:

"Cayla of Pankobunny creates delicious homemade fried doughnuts and fills them with every color of the rainbow . . . Not only are these doughnuts incredibly pretty, they are incredibly delicious too!"
–Pantreze

"Whether you have early morning classes or late night study sessions, [her] chocolate chip scones are the perfect treat . . ."
–Pottery Barn Teen

"With a sweet tooth as big as my entire mouth, I am a huge fan of goodies! And there is no one who has a better handle on making sweets look as fun as they taste than Cayla Gallagher. Get ready to dive deep into a treasure trove of delectable tasty treats that might have you eating the pages of this book!" —Joel Comm, New York Times bestselling author

"Cayla creates the most magical treats in this truly enchanting, colorful, and festive book. You can't help but smile as you turn each page, to discover new and exciting recipes, perfect for any special occasion!" —YouTuber Lindsay Ann Bakes, Food Network's Cupcake Wars winner

"I might be a magician but nothing close to Cayla Gallagher's magical recipes in the kitchen. From rainbow cinnamon rolls to watermelon fugde. How does that even work?" —Julius Dein

"Filled with pastel and unicorn prettiness! There's a wide variety of sweets treats and recipes that are great for the novice or advanced baker." —YouTuber and blogger Christina, of Christina's Cupcakes

"I've always swooned over Cayla's beautifully shot videos on YouTube and Instagram and I'm thrilled that her easy-to-follow recipes have been compiled in this fabulous book. I'm sure my daughter will have a blast making these sweet unicorn treats when she's old enough, but until then, I'm making them for myself!" —Amber Spiegel of SweetAmbs and SweetAmbsCookies

"Innovative and adorable culinary creations."
—Forbes

*****

Praise for Cayla Gallagher's Recipes:

"Cayla of Pankobunny creates delicious homemade fried doughnuts and fills them with every color of the rainbow . . . Not only are these doughnuts incredibly pretty, they are incredibly delicious too!"
–Pantreze

"Whether you have early morning classes or late night study sessions, [her] chocolate chip scones are the perfect treat . . ."
–Pottery Barn Teen