150 Survival Secrets: Advice on Survival Kits, Extreme Weather, Rapid Evacuation, Food Storage, Active Shooters, First Aid, and More (Paperback)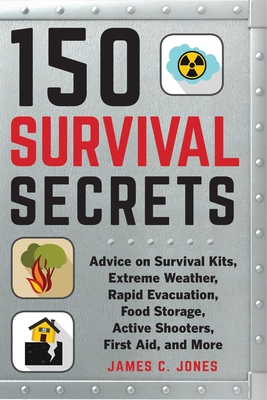 $19.79

Available in our Warehouse: Usually Ships in 3-8 Days
Description
---
As the world gets more dangerous, you have to be prepared for anything, even the worst. In
150 Survival Secrets
, seasoned survivalist James C. Jones provides insider tips to help you and your family survive any catastrophe. Divided into practical sections,
150 Survival Secrets
answers every question you've ever had about disaster preparedness. One section lists the practical details of making it through any kind of emergency situation. Some topics include:
How to survive extreme winter conditions
How to put together a homemade survival kit in the case of an emergency
How to safely evacuate from an urban area during a disaster
How much and what type of food to store at home for long-term emergencies
How to survive an active shooter situation
How to treat common injuries.
Other sections answer everything you've ever wondered about disaster prepping, including what being a survivalist entails, how to equip your home for survival situations, what gear is essential for a survivalist to own, what elements are essential in a good emergency plan, what types of disasters you can expect to face in your lifetime, and more. So what are you waiting for? With
150 Survival Secrets
, you'll be prepared for anything and everything.
About the Author
---
James C. Jones is the co-founder of Live Free USA and has written hundreds of articles for Live Free's newsletter, American Survivor. He currently writes articles for several national preparedness and survival related publications, while continuing to teach a variety of survival courses and make presentations at major preparedness exposition. His books include Beyond Survival: An Introduction to the Self-Reliance Revolution and The Live Free Book of Total Survival. He lives in the Midwest.