Do-It-Yourself Projects to Get You Off the Grid: Rain Barrels, Chicken Coops, Solar Panels, and More (Paperback)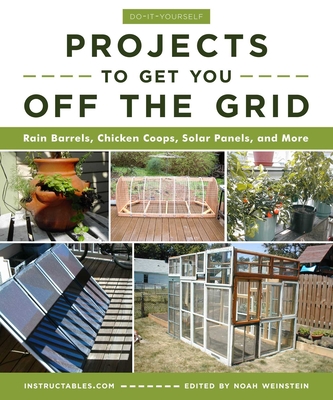 $17.99
This item is not currently available to order.
Description
---
Illustrated with full-color photographs accompanying easy-to-follow instructions, this unique collection utilizes the best that the online community has to offer, a mammoth database churning out ideas to make life better, easier, and, in this case, greener.
Here are fun, useful projects designed to get you thinking creatively about going green. Let the Instructables team illustrate just how simple it can be to make your own backyard chicken coop or turn a wine barrel into a rainwater collector.
Here, you will learn to:
Clip a chicken's wings
Power your lawn mower with solar power
Create a chicken tractor for the city
Water your garden with solar power
Build a thermoelectric lamp
Create an algae bioreactor from water bottles
And much more!
Get started today—making your life greener. Get off the grid!
About the Author
---
Instructables.com is a bona fide Internet sensation, a web-based community of motivated do-it-yourselfers who contribute invaluable how-to guides to the site on a wide range of topics, from gardening and home repair to recipes to gadgets that defy categorization. The site hosts more than 100,000 projects. More than 15 million people visit the site each month, leaving comments and suggestions on the ever-growing list of do-it-yourself projects.

Noah Weinstein is an editor at Instructables.com, co-founder of SF Media Labs and spends time making things both big and small at his shop in Oakland, CA. He has worked as a white water rafting guide, custom speaker builder, sheep shepherd, and tractor driver. He earned a BA from Brown University where he concentrated in environmental studies and visual art.