Cotton Candy Wishes: A Swirl Novel (Paperback)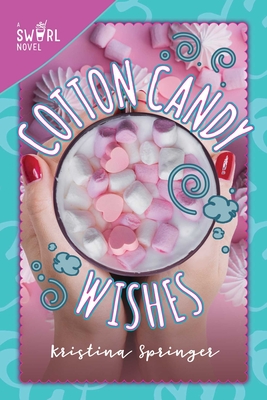 $8.79

Available in our Warehouse: Usually Ships in 3-8 Days
Description
---
Is achieving the social status of your dreams really all that sweet?

Taylor wishes she were popular. It's not like she doesn't have any friends, but when she tries to throw a giant cotton candy–themed birthday bash, it ends up a huge flop—no one shows up.

So when her dad gets a new job and they have to move, Taylor sees it as an opportunity to reinvent herself. As luck would have it, in the first week of her new school, she's partnered on a project with the queen bee of seventh grade herself, Elle. Soon, she's one of the popular crowd. She's even on her way to a date with the cutest boy in school! All her dreams are coming true!

But Taylor starts to learn that being with the in-crowd involves a lot of gossip and backstabbing—and she realizes that her favorite part of the day is actually hanging out with Colin, her nerdy math partner. However, Elle is not a fan of Colin—and ultimately, Taylor has to choose between them. Will she risk alienating Colin and his friends to maintain the social status she always wished for?
About the Author
---
Kristina Springer is the author of Cici Reno #MiddleSchoolMatchmaker (Sterling Children's); My Fake Boyfriend Is Better Than Yours (Macmillan/FSG), a Scholastic Book Club Bestseller and 2012 YALSA Quick Pick book; The Espressologist (Macmillan,/FSG), a 2010 Society of School Librarians International Honor Book and 2014 Illinois Reads Book that has been purchased for film by Michael Eisner's Vuguru; and Just Your Average Princess (Macmillan/FSG). She has a Masters in Writing from DePaul University and resides in a suburb of Chicago with her husband and children.
Praise For…
---
"Springer deftly captures the highs and lows of junior high, taking the reader through the full range of emotions." —Jo Whittmore, author of the Confidentially Yours series

"Oh, the sweet and sour of seventh grade. Taylor Hunt experiences it all in Kristina Springer's deliciously realistic Cotton Candy Wishes." —Cindy Callaghan, Just Add Magic series, Lost In series, and Sydney Mackenzie Knocks 'Em Dead

"Cotton Candy Wishes illustrates that true friends—and not popularity—are the sweetest dessert of all." —Gail Nall, author of Out of Tune and Break the Ice

"Tweens will love this sweet story about following your heart even when it's not exactly easy." —Lisa Schroeder, author of It's Raining Cupcakes and See You on a Starry Night

"Springer deftly captures the highs and lows of junior high, taking the reader through the full range of emotions." —Jo Whittmore, author of the Confidentially Yours series