I Want More—How to Know When I've Had Enough (The Safe Child, Happy Parent Series) (Hardcover)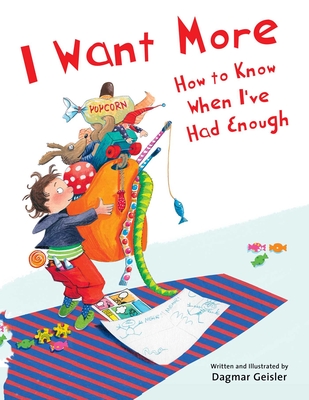 $18.69
This item is not currently available to order.
Description
---
How do you know when you've had enough?

Lisa loves gummy bears, especially the yellow and red ones. And the green. And the orange. She would eat a whole bag of them if they didn't make her stomach ache.

Emma really enjoys swimming in the bathtub, but she knows exactly when she's been underwater long enough and needs to come up for air.

Tim loved the rabbit stuffed animal his grandmother gave him so much that he asked for another, and another, and now Tim isn't quite sure where his favorite stuffed rabbit is—and there's no room for him in the bed!

In Dagmar Geisler's I Want More—When To Know When I've Had Enough, readers will meet a number of children with interests similar to their own who learn to recognize when they've had enough or when they've had too much—when they've eaten too much of their favorite snack, collected too many of their favorite toys, or sat in front of the television for too long. Then, they can rank their favorite activities, toys, and foods using a scale of Too little!  to Enough already!, featured at the end of the book.

I Want More gives parents, grandparents, and caregivers the opportunity to speak with children about setting limits, allowing them to develop their own internal feeling for when something is no longer beneficial, fun, or healthy. 
About the Author
---
Dagmar Geisler is a German author and illustrator. She studied graphic design at the University of Applied Sciences in Wiesbaden and worked for several publishing houses and broadcasting companies. Today, Dagmar focuses mainly on children's books, both as an illustrator and an author. She illustrated My Body Belongs to Me from My Head to My Toes which received the Silver Feather (Silberne Feder) Children's Book Prize from the German Medical Women's Association, and My Feelings and Me. She lives with her family in Munich, Germany.