The Wizard's Dessert Cookbook: Magical Recipes Inspired by Harry Potter, The Hobbit, Fantastic Beasts, The Chronicles of Narnia, and More (Magical Cookbooks) (Hardcover)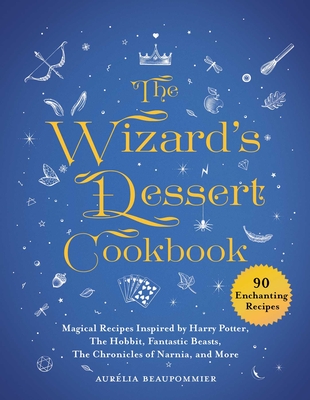 $24.99
This item is not currently available to order.
Description
---
Make your next family meal or celebration special with a magic dessert inspired by the stories and characters of JRR Tolkien, JK Rowling, Roald Dahl, CS Lewis, and many more!
From Hobbits to Willy Wonka to Ghostbusters, from Harry Potter to Merlin, wizards and fantastic creatures alike like to put a little sweetness in their daily lives. There are bites to snack and share, charming cookies and cakes, and divine desserts that are full of mystery! Discover all their wonderful recipes, including:
Butterbeer (Harry Potter)
Paige's pecan tartlets (Charmed)
Gingerbread men (Shrek)
Energy spheres from Dungeons and Dragons
Peculiar's eyes (Miss Peregrine's Home for Peculiar Children movie)
Lucy Pevensie's magic cordial (The Chronicles of Narnia)
Bilbo's 111th birthday cake (The Lord of the Rings)
Queenie Goldstein's strudel (Fantastic Beasts and Where to Find Them)
And many, many more!
Whether you are a beginner wizard or a confirmed alchemist, you will see, dessert is the preferable food of all magical creatures!
About the Author
---
Aurélia Beaupommier is a passionate reader of all wonderful and fantastic literature. She decided to join the CNRS (Centre National de la Recherche Scientifique) in France, where she worked for many years as a librarian. As passionate about books as she is about cooking, she now lives with her family in Normandy, in a secret place where there are "books, friends, and flowers" and where she has concocted these recipes from the world cultures of the imaginary.