PHP Programming For Beginners: The Simple Guide to Learning PHP Fast! (Paperback)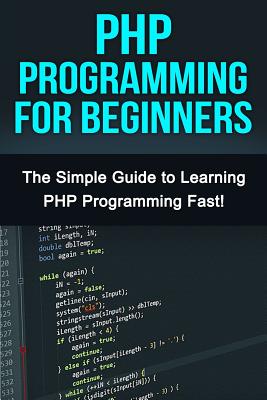 $17.24
This item is not currently available to order.
Description
---
PHP Programming For Beginners
Grab this GREAT physical book now at a limited time discounted price
This book offers you basic tutorials on PHP, and it will make it easy for you to understand. After reading this book, you will find that web programming will become more efficient and simpler for you. It will give you the power to compete with other web page designers, and you can interact with your visitors in a stylish way. Even if you're a beginner, you will understand the instructions in this book, and you will be able to understand PHP coding. You will have a thorough understanding of what PHP does, what you can use it for, and who it is aimed at. In addition, this book gives you all the information to get you started with PHP, and to get started with it. You will know exactly it is used for and who uses it. Moreover, this book will save you the time from looking up information on proper coding, and having to look up information on PHP. You will never look at web programming the same again, and it will make your work much easier. This book is thorough, and it even starts you off with some coding skills. You will gain the skills to master PHP, in order to transform your website into a professional and nice looking site.
Here Is What You'll Learn About...
Basics Of PHP
Rules Of PHP
PHP Uses
How Strings Work
Operators
Control Structures
Much, Much More
Order your copy of this fantastic book today