The Radical Bookstore: Counterspace for Social Movements (Paperback)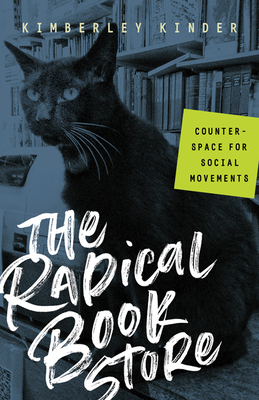 Description
---
Examines how radical bookstores and similar spaces serve as launching pads for social movements
 
How does social change happen? It requires an identified problem, an impassioned and committed group, a catalyst, and a plan. In this deeply researched consideration of seventy-seven stores and establishments, Kimberley Kinder argues that activists also need autonomous space for organizing, and that these spaces are made, not found. She explores the remarkably enduring presence of radical bookstores in America and how they provide infrastructure for organizing—gathering places, retail offerings that draw new people into what she calls "counterspaces."
Kinder focuses on brick-and-mortar venues where owners approach their businesses primarily as social movement tools. These may be bookstores, infoshops, libraries, knowledge cafes, community centers, publishing collectives, thrift stores, or art installations. They are run by activist-entrepreneurs who create centers for organizing and selling books to pay the rent. These spaces allow radical and contentious ideas to be explored and percolate through to actual social movements, and serve as crucibles for activists to challenge capitalism, imperialism, white privilege, patriarchy, and homophobia. They also exist within a central paradox: participating in the marketplace creates tensions, contradictions, and shortfalls. Activist retail does not end capitalism; collective ownership does not enable a retreat from civic requirements like zoning; and donations, no matter how generous, do not offset the enormous power of corporations and governments. 
In this timely and relevant book, Kinder presents a necessary, novel, and apt analysis of the role these retail spaces play in radical organizing, one that demonstrates how such durable hubs manage to persist, often for decades, between the spikes of public protest. 
About the Author
---
Kimberley Kinder is associate professor of urban and regional planning at the University of Michigan. She is author of DIY Detroit: Making Do in a City without Services (Minnesota, 2016) and The Politics of Urban Water: Changing Waterscapes in Amsterdam.
Praise For…
---
"Radical bookstores have finally received the full-length study they deserve. Focusing on contentious politics and constructive placemaking, Kimberley Kinder shows that these shops do much more than sell political literature. If you want to understand how movements use bricks, mortar, and books to build their own worlds and spread their ideas—even in the twenty-first century—you should read this book."—Joshua Clark Davis, University of Baltimore
"The Radical Bookstore is a sorely needed corrective to the conventional story of retail bookselling. The focus on print-based movement spaces yields an absorbing narrative in which social justice-oriented bookstores emerge as critical sites for negotiating belonging, enacting care, and fostering equity. Kimberley Kinder shows us that another print culture, divested of the overwhelming demands of consumer capitalism, is indeed possible."—Ted Striphas, University of Colorado, Boulder
"The work is well-written and enjoyable to read. The biggest strength in the book lies in how it contextualizes the radical bookstore counterspaces within a larger social context."—Social Forces
"The scope of Kinder's analysis is impressive, yet the author also leaves room for further engagement on a number of questions addressed throughout the text, in a way that is fruitful and generative. The book makes a number of interesting theoretical contributions, unthreading the ways in which the different radical spaces are built, run, and sustained through organising and solidarity networks."—Urban Studies