Skiing into the Bright Open: My Solo Journey to the South Pole (Paperback)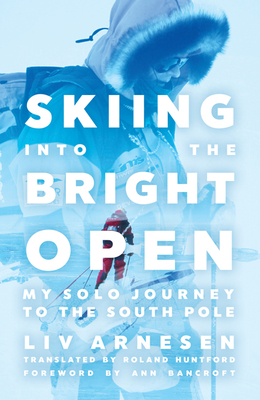 $24.15
This item is not currently available to order.
Description
---
The first woman to ski solo to the South Pole tells the story of what it took to get there

At home in Norway it is eight o'clock on Christmas Eve night, but ahead, at the Amundsen–Scott base that has been visible for hours, it is already early in the morning of Christmas Day when Liv Arnesen, after skiing solo for 745 miles in fifty days, finally arrives. She had been dreaming of the South Pole for most of her forty-one years, and now, even in her joy at having reached her goal in December 1994, she has to ask herself: what took you so long? In Skiing into the Bright Open Arnesen describes the exhausting, exhilarating experience of being the first known woman to ski unsupported to the South Pole. She also answers her own question, framing her account of her historic expedition with her longtime struggle to find the freedom and confidence to follow her dreams into uncharted territory. 
From her childhood in Norway to the seasons she spent working as a guide on Svalbard, the Norwegian archipelago in the Arctic Ocean, Arnesen courted the cold, and her memoir reflects the knowledge and passion for Arctic and Antarctic exploration that grew with her adventures in the wintry reaches of Norway and beyond. Tracing her path from the heroic stories of explorers like Fridtjof Nansen and Ernest Shackleton to her own crossing of the Greenland Ice Cap in 1992, Arnesen credits the inspiring feats of those who preceded her but also describes the obstacles—including niggling self-doubt—that tradition, convention, and downright prejudice put in her way as she endeavored to find the support and sponsorship granted to men in her field.
A tale of solitary adventure in the bleak and beautiful bone-chilling cold of Antarctica, Skiing into the Bright Open tells a story of gritty determination, thrilling achievement, and perseverance in the face of near despair and daunting odds; it is, ultimately, an object lesson in the power of a dream if one is willing to pursue it to the ends of the earth.
About the Author
---
Liv Arnesen is a world-renowned explorer, lecturer, author, and educator whose expeditions have been featured by the BBC, CNN, NPR, NBC Nightly News, and NBC's Today Show, as well as in the New York Times, Outside, Sports Illustrated, and O, The Oprah Magazine. With Ann Bancroft, she wrote No Horizon Is So Far: Two Women and Their Historic Journey across Antarctica (Minnesota, 2019) and founded Bancroft Arnesen Explore, a nonprofit dedicated to global water sustainability, with expeditions planned through 2027 to raise awareness through education and storytelling. She lives near Oslo, Norway.
Roland Huntford's many books include critically acclaimed biographies of Ernest Shackleton and Fridtjof Nansen and The Last Place on Earth: Scott and Amundsen's Race to the South Pole.
Ann Bancroft is one of the world's preeminent polar explorers and the first woman to reach both the North and South Poles. An internationally recognized educator, speaker, and philanthropist, she founded the Ann Bancroft Foundation in 1991.
Praise For…
---
"This account of a remarkable history-making solo adventure is told with understated grace by a no less remarkable woman. . . . Her towering inner strength, her courage and calm in the face of adversity, and her endless curiosity about what's over the horizon all make for an amazing expedition."—Ann Bancroft, from the Foreword
"Skiing into the Bright Open is an inspiration. In following Liv Arnesen from her childhood dreams of exploration in Norway to her historic solo expedition to the South Pole, we are drawn especially into the journey of Liv herself—bound to her dreams no matter the odds and obstacles, and as a woman in a field that too often tried to tell her no. This book will give strength to anyone fighting to follow their dreams. And the view from the ice is spectacular. I just listened to my own heart when thinking about the book."—Liv Ullmann
"Skiing into the Bright Open by Liv Arnesen is a remarkable book that documents an incredible achievement. This gripping and personal narrative of Arnesen's preparations and her solo journey on skis to the south pole is an unforgettable tale of focus and persistence. While hauling a 220-pound sledge across stastrugi and crevasses for 1200 kilometers, the author comes through as a person I would very much like to meet."—Arlene Blum, author of Annapurna: A Woman's Place and Breaking Trail: A Climbing Life
"Skiing into the Bright Open is an inspiring memoir about the gritty determination that's needed to achieve dreams and accomplish feats that once seemed impossible."—Foreword
"Amid sundry accounts of other great polar achievements, overwhelmingly by men, Arnesen tells her story almost effortlessly, even chummily, sidestepping the usual tone of turmoil."—Star Tribune
"There's something wonderfully perplexing about Norwegian adventurer Liv Arnesen's account of her solo ski journey to the South Pole."—The Daily Gazette
"This humble telling of a remarkable accomplishment makes for a good read in a cozy spot, watching winter out the window. "—The Ely Winter Times
"A tale of solitary adventure in the bleak and beautiful bone-chilling cold of Antarctica, Skiing into the Bright Open tells a story of gritty determination, thrilling achievement, and perseverance in the face of near despair and daunting odds; it is, ultimately, an object lesson in the power of a dream if one is willing to pursue it to the ends of the Earth. "—The Polar Times