Tiny Love Stories Page-A-Day Calendar 2023: A Year of Big Love in Small Bites (Calendar)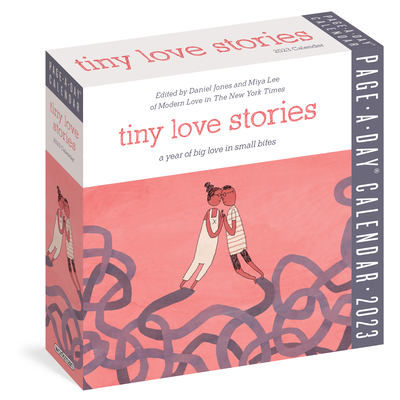 $16.99
This item is not currently available to order.
Description
---
Hundreds of humorous, heartbreaking, hopeful, and poignant stories of love, all told in one hundred words or less.

Tales of affection between people and their pets. Tales of parental devotion. Tales of matches made at divorce groups. Tales of love during lockdown. Each is pure poetry, a bite-size vignette that is surprising in its power and relatable to anyone who's pined for true love, lost the one who got away, or found love in an unexpected place. Printed on responsibly sourced paper and 100% recyclable.

"I was Dakota's prom date so long as he could not 'fi nd anyone better.' We are married now. I guess he couldn't."
About the Author
---
Daniel Jones has edited the Modern Love column in the New York Times since its inception in 2004. His books include Modern Love: True Stories of Love, Loss, and Redemption; Love Illuminated: Exploring Life's Most Mystifying Subject (with the Help of 50,000 Strangers); The Bastard on the Couch; and the novel After Lucy, which was a finalist for the Barnes & Noble Discover Award. Jones appears weekly on the Modern Love podcast and is a consulting producer for Amazon's Modern Love.
Miya Lee is the Modern Love projects editor at The New York Times. She co-hosts the Modern Love podcast, reads submissions to Modern Love, selects and edits Tiny Love Stories and develops the column's special projects. She began work for Modern Love as a reader for the column's college essay contest. She lives in New York City.