Rosemary Gladstar's Herbs Wall Calendar 2023: Recipes and Remedies for Health and Home (Calendar)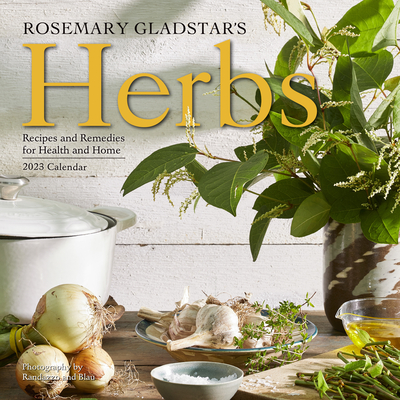 $15.99
This item is not currently available to order.
Description
---
A year-long celebration of herbs and all the ways they enhance our lives.

No one knows herbs better than Rosemary Gladstar, the leading expert in how herbs bring beauty to the garden, add flavor and aroma to the food we eat, and promote well-being, as they have since ancient times. Featuring gorgeous, full-color photographs, detailed facts and fascinating history about each month's plant, plus recipes for tinctures, salves, and delicious herbal treats, Herbs celebrates all the ways herbs help us. Here is flavorful and healthful oregano, known as "joy of the mountain" and traditionally worn at weddings. Ginger to turn into syrup for a soothing hot tea. Even white pine—its needles are high in vitamins and pollen that's a nourishing superfood. Printed on responsibly sourced paper.

 
About the Author
---
Rosemary Gladstar is the best-selling author of Rosemary Gladstar's Medicinal Herbs: A Beginner's Guide and Rosemary Gladstar's Herbal Recipes for Vibrant Health, which draw on her 40-plus years of experiences studying and teaching about the healing properties of herbs. She is a world-renowned educator, activist, and entrepreneur, and the founding director of Sage Mountain Herbal Retreat Center, the International Herb Symposium, and the New England Women's Herbal Conference. Gladstar is founding president of United Plant Savers, a nonprofit organization dedicated to the conservation and preservation of native American herbs. She was the original formulator for Traditional Medicinal herbal teas and has led herbal educational adventures around the world. She is the recipient of an honorary doctorate from the National University of Natural Medicine in Portland, Oregon, and serves on the board of the Association for the Advancement of Restorative Medicine and The National Health Freedom Coalition. She lives in Vermont.