Food52 Genius Desserts: 100 Recipes That Will Change the Way You Bake [A Baking Book] (Food52 Works) (Hardcover)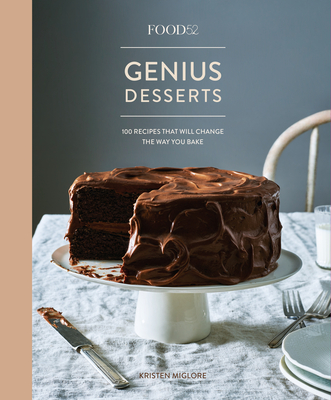 $35.00

Available in our Warehouse: Usually Ships in 3-8 Days
Description
---
In this follow-up to the IACP award-winning, New York Times best-selling cookbook Genius Recipes, Food52 is back with the most beloved and talked-about desserts of our time (and the under-the-radar gems that will soon join their ranks)—in a collection that will make you a local legend, and a smarter baker to boot.

IACP AWARD WINNER • Featured as one of the best and most anticipated fall cookbooks by the New York Times, Eater, Epicurious, The Kitchn, Kitchen Arts & Letters, Delish, Mercury News, Sweet Paul, and PopSugar.
 
Drawing from her James Beard Award-nominated Genius Recipes column and powered by the cooking wisdom and generosity of the Food52 community, creative director Kristen Miglore set out to unearth the most game-changing dessert recipes from beloved cookbook authors, chefs, and bakers—and collect them all in one indispensable guide. 
 
This led her to iconic desserts spanning the last century: Maida Heatter's East 62nd Street Lemon Cake, François Payard's Flourless Chocolate-Walnut Cookies, and Nancy Silverton's Butterscotch Budino. But it also turned up little-known gems: a comforting Peach Cobbler with Hot Sugar Crust from Renee Erickson and an imaginative Parsnip Cake with Blood Orange Buttercream from Lucky Peach, along with genius tips, riffs, and mini-recipes, and the lively stories behind each one. 
 
The genius of this collection is that Kristen has scouted out and rigorously tested recipes from the most trusted dessert experts, finding over 100 of their standouts. Each recipe shines in a different way and teaches you something new, whether it's how to use unconventional ingredients (like Sunset's whole orange cake), how to make the most of brilliant methods (roasted sugar from Stella Parks), or how to embrace stunning simplicity (Dorie Greenspan's three-ingredient cookies). With photographer James Ransom's riveting images throughout, Genius Desserts is destined to become every baker's go-to reference for the very best desserts from the smartest teachers of our time—for all the dinner parties, potlucks, bake sales, and late-night snacks in between.
About the Author
---
KRISTEN MIGLORE is the creative director at Food52.com. She abandoned a career in economics in 2007 to pursue a master's degree in food studies from New York University and a culinary degree from the Institute of Culinary Education. Her writing has since been published in The Wall Street Journal, Saveur, and The Atlantic, and she was nominated for a James Beard Award for Food52's Genius Recipes column in 2014. The column led to the Genius Recipes cookbook in 2015, which won an IACP award in 2016 and became a New York Times best seller. She lives in Brooklyn and usually has a pastry in her purse.

FOOD52 is a groundbreaking online kitchen and home destination. Founded by Amanda Hesser and Merrill Stubbs--two authors and opinionated home cooks who formerly worked for the New York Times--the company celebrates home cooks, giving them everything they need in one place. That includes smart and entertaining stories about cooking and home, over 70,000 recipes, a cooking hotline, a suite of cookbooks, a shop with everything from stunning tabletop goods to the trustiest pan, and a million-strong community of fellow talented and curious cooks.
Praise For…
---
"For the baker looking for a sure thing with every turn of the page ..."
— New York Times

"Food52's creative director Miglore delivers a solid collection of proven, must-have recipes for an array of desserts. The recipes are sourced from such expert bakers as Rose Levy Beranbaum and Stella Parks, and such chefs as J. Kenji López-Alt and then tested in the Food52 kitchens. The result is a cookbook that will become a go-to for enthusiastic bakers."
—Publishers Weekly

"It functions like a treasure hunt, with lovely things casually lurking within the pages … smart, delicious, understated and, yes, genius."
—Los Angeles Times

"When I first got this book in the mail and opened it up, the gorgeousness of it... made me pin myself to the couch for a minute and just go page by page."
—Evan Kleiman, Good Food

"True to the name, the latest sweets-focused book in Food52's Genius Recipes series is a collection of gems."
—Departures.com

"Consider this the indispensable baking guide, filled with all the clever hacks... you've been searching for."
—Jessica Yadegaran, Mercury News

Praise for Genius Recipes:
 
"Genius Recipes is the hands-down winner of the dog-eared page contest — because it instantly dismisses what might be the most important question asked by a cook confronting a new recipe. Namely, will this work? Of course it will."
—Jenny Rosenstrach, New York Times
 
"This is my new favorite cookbook."
—Michael Ruhlman
 
"I haven't been so delighted by a recipe in ages, or been so rewarded for trusting an author."
—Tejal Rao, Bloomberg
 
"In book version, Genius Recipes reads like an epic, culinary "best of" boxed set of recipes—the kind you'd actually make."
—Jenni Avins, Quartz