Healthy Me: Keeping Clean (Paperback)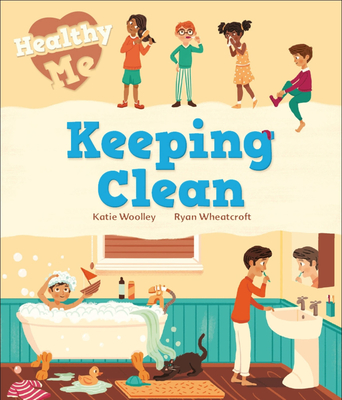 $13.99
This item is not currently available to order.
Description
---
Why do I have to wash? What's wrong with biting my nails? Why can't I pick my nose? Why can't I wear the same socks each day? The answers to these and many other questions about hygiene can be discovered in this lively and informative series. The topic of keeping clean is complemented by charming and humorous illustrations.

This book is designed for children to begin to learn about the importance of being healthy, and the ways in which we can look after our bodies to keep fit and well. A clean body is very important for keeping illnesses at
bay and for feeling good about yourself. Creating good hygiene habits from an early age is vital.

At the back are notes for parents and teachers that provide additional advice and support as well as further activity ideas and information.

These titles support the science curriculum at Key Stage One and Key Stage 2, as well as PSHCE topics.

The Healthy Me series is aimed at children aged from 5 and up to explain how people can keep fit and be healthy, forming habits that will last a life time. Other titles in the series are: Exercise and Play, Eating Well, Keeping Safe, Mental Well-being and Mindfulness, Resting and Sleeping.
About the Author
---
Katie Woolley (Author)
Katie Woolley is a creative and versatile editor and writer who has worked on children's books for all age levels, from board books, novelty books and picture books to non-fiction, licensed publishing and educational books and apps.
With more than 10 years' publishing experience working for companies such as Ladybird Books and Hachette Children's Books, she has written, commissioned, edited and project-managed a wide variety of titles for some of the biggest children's publishers.

Ryan Wheatcroft (Illustrator)
Ryan Wheatcroft was born and raised in Sheffield, where he still lives on the outskirts of the city. He spent his childhood making books in old ring binders with borrowed fax machine paper, which began his love for telling stories with words and pictures. The interest in storytelling continued to grow and driven by his passion for illustration and design (especially from the early and middle parts of the last century) he went on to study illustration at the University of Lincoln. Since graduating in 2014 he has worked as an illustrator and he now spends most of his time making pictures for books and magazines.