Grade Six Music Theory: for ABRSM Candidates (Paperback)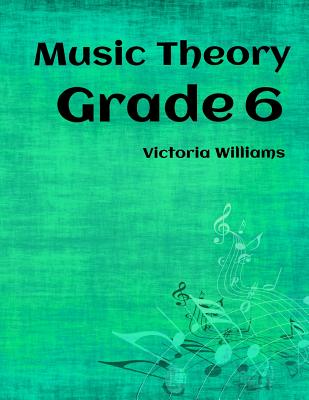 $18.40

Available in our Warehouse: Usually Ships in 3-8 Days
Description
---
Grade Six Music Theory for ABRSM Candidates
A complete course for students taking the ABRSM Grade 6 music theory exam.
This book takes you through each topic with a step-by-step approach. The topic in each unit is explained in simple terms with several musical examples, and is then followed by a page of consolidation exercises so that you can immediately practice your new-found knowledge. Model answers are provided.
The course covers the ABRSM syllabus for Grade Six, which is a high intermediate level.
The course is broken down into three sections, which mirror the way the exam paper is organised - harmony, composition and score-based analysis questions.
In the harmony section, you will learn how chords are constructed, about their inversions and the way they are commonly put into progressions and cadences. You will learn how to harmonise a simple melody, by choosing chords that both sound good, and also agree with the "rules" of harmony set down in the classical era. Also in this section, you will learn how to read "figured bass", which is a short-hand system for notating chords. You will be able to produce a piece of 4-part harmony from a single figured bass line, and also learn how to create a figured bass line which will fit a given melody. You will learn how the figured bass system works, how to answer the exam questions, with plenty of tips to help you remember as you go along.
In the composition section of the course, you will find out exactly what the examiner is expecting of you, in order to gain top marks for your composition. You will learn how to structure a melody, how to use the ideas from the provided given opening to create the rest of the piece, and how to write performance directions which are meaningful and musical. You will also learn about changing key (modulation) and the most effective way to do this.
The last section of the course is general knowledge - you will learn how to answer a range of questions based on a score for either an chamber work, or an orchestral piece. You'll learn about how ensemble scores are organised, which instruments transpose and how, as well as a myriad of other skills such as intervals, writing out ornaments, or analysing harmony.
Perfect for self-study, or to use with your music teacher.
Ample musical illustrations and exercises are included, with model answers provided. Each page has been carefully designed to be suitable for photocopying.
This book is "bilingual", and contains both UK and USA musical terminology.
About the Author
---
Victoria Williams graduated with a degree in music, majoring in musicology, from the University of Leeds in 1995. She teaches music theory from her home in Cambridge, UK, and on her website http: //www.mymusictheory.com, which provides structured music theory lessons from beginners through to advanced. Victoria specialises in training students for the ABRSM music theory exams, grades 1-8. She is also an accomplished clarinet player, and pianist.