We Are the Wildcats (Hardcover)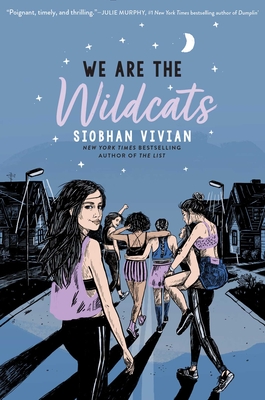 $18.99
This item is not currently available to order.
Staff Reviews
---
I absolutely loved this unique story about 24 intense hours in the lives of a girls' field hockey team. Vivian's masterful storytelling brings out the intensity of friendships & power dynamics among the players - you will care deeply about these girls!
— Suzanna
Description
---
A toxic coach finds himself outplayed by the high school girls on his team in this deeply suspenseful novel, which unspools over twenty-four hours through six diverse perspectives.

Tomorrow, the Wildcat varsity field hockey squad will play the first game of their new season. But at tonight's team sleepover, the girls are all about forging the bonds of trust, loyalty, and friendship necessary to win.

Everything hinges on the midnight initiation ceremony—a beloved tradition and the only facet of being a Wildcat that the girls control. Until now.

Coach—a handsome former college player revered and feared in equal measure—changes the plan and spins his team on a new adventure. One where they take a rival team's mascot for a joyride, crash a party in their pajamas, break into the high school for the perfect picture.

But as the girls slip out of their comfort zone, so do some long-held secrets. And just how far they're willing to go for their team takes them all—especially Coach—by surprise.

A testament to the strength and resilience of modern teenage girls, We Are the Wildcats will have readers cheering.
About the Author
---
Siobhan Vivian is the author of the young adult novel We Are the Wildcats, as well as Stay Sweet, The Last Boy and Girl in the World, The List, Not That Kind of Girl, Same Difference, A Little Friendly Advice, and the Burn for Burn trilogy, cowritten with Jenny Han. A former editor for Alloy Entertainment, she received her MFA in creative writing at the New School. She teaches creative writing at the University of Pittsburgh. Visit her at SiobhanVivian.com.
Praise For…
---
PRAISE FOR WE ARE THE WILDCATS

"Courage is at the heart of Siobhan Vivian's We Are the Wildcats. Creating different voices and backstories for this many primary characters isn't easy, but Vivian does so with aplomb, giving each Wildcat a credible and memorable personality."
— BookPage, starred review

"A fresh, beautifully written look at high school sports that sparkles with strong female athletes."
— Kirkus Reviews

"A taut, triumphant collective portrait of girls learning to measure their own worth."
— Booklist, Online Exclusive

PRAISE FOR SIOBHAN VIVIAN

"Offering a well-differntiated cast of complex characters and a thoughtful focus on femininity, sisterhood, relationships, eating disorders, and what it means to be signled out, Vivian proves that beauty and ugliness aren't always a matter of appearance."
— Publishers Weekly, starred review for THE LIST

"This riveting exploration of physical appearance and the status it confers opens a cultural conversation that's needed to happen for a long time...Vivian refuses to falsify or avoid the uncomfortable realities."
— Kirkus Reviews, starred review for THE LIST

"Smart, snappy writing."
— New York Times Book Review for THE LIST

"A delectable mixture of ice cream and romance...While evoking the warmth of rural life and employee comradeship, Vivian writes an empowering novel for young women with big dreams."
— Publishers Weekly, starred review for STAY SWEET

"A rare, enjoyable portrait of a woman-run business....Amelia possesses the qualities she needs to achieve her goals but, like many girls, lacks confidence in using them; watching her evolve is empowering."
— Kirkus Reviews on STAY SWEET

"The even pacing, adept characterization, and relatable protagonists make this a delightful choice. With a strong message about female empowerment and hard work, this YA book will be a great read for spring break or summer vacation....For fans of Jenny Han looking for a light but touching summer read about first love, feminism, and ice cream."
— School Library Journal on STAY SWEET

"This is both a bittersweet paean to the passage of time and a satisfying examination of a girl, used to being in the background, who comes into her own. Summer reading at its finest."
— Booklist on STAY SWEET

"Stay Sweet will inspire ambition—and ice-cream cravings."
— Seventeen Magazine

"Vivian draws readers into this story effortlessly."
— VOYA, starred review for THE LAST BOY AND GIRL IN THE WORLD

"A richly layered portrayal of bad boys, girl pranksters, even conspiracies."
— Kirkus Reviews on THE LAST BOY AND GIRL IN THE WORLD

"Vivian's fans won't be disappointed with this savvy chronicle of a girl finding herself amid the wreckage of her past."
— School Library Journal on THE LAST BOY AND GIRL IN THE WORLD