SLAY (Paperback)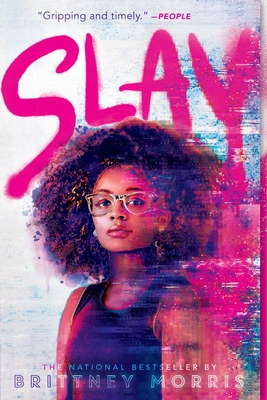 Staff Reviews
---
This is an amazing book! Kiera is a black girl living in a white world who creates an online video game where black people can celebrate black culture and just be themselves. It is no surprise that it attracts half a million players! I want to play and I'm white! When something terrible happens, the white world finds out about the game and all Hell breaks loose. Yes the game is racist. It is only open to one race, but the evidence that this one safe place is sorely needed is overwhelming. So much to think/talk about! What a pleasure to read!
— Lisa
Fall 2019 Kids Indie Next List
---
"SLAY is so much more than just another book about video games: it's about a girl who carves a space in the world for herself and completely owns it, and it's about the microaggressions and the can-I-touch-your-hairs and all the things that come with being one of a handful of black kids in a school. It isn't afraid to pull punches where it counts; sometimes you see them coming, sometimes you don't."
— Avery Peregrine, Third Place Books, Lake Forest Park, WA
Winter 2020 Reading Group Indie Next List
---
"My inner gamer nerd is over the moon. I lost any sense that I was reading from a page during the gaming interludes. What a vision of a VR-based MMORPG (massively multiplayer online role-playing game)! Black women in STEM and Black gamers are celebrated and centered, and white readers have the opportunity to explore their whiteness and how exhausting it is to be tokenized."
— Kim Raymoure, Queen Anne Book Company, Seattle, WA
Description
---
A Publishers Weekly Best Book of 2019!
"Gripping and timely." —People
"The YA debut we're most excited for this year." —Entertainment Weekly
"A book that knocks you off your feet while dropping the kind of knowledge that'll keep you down for the count. Prepare to BE slain." —Nic Stone, New York Times bestselling author of Dear Martin and Odd One Out

Ready Player One meets The Hate U Give in this dynamite debut novel that follows a fierce teen game developer as she battles a real-life troll intent on ruining the Black Panther–inspired video game she created and the safe community it represents for Black gamers.

By day, seventeen-year-old Kiera Johnson is an honors student, a math tutor, and one of the only Black kids at Jefferson Academy. But at home, she joins hundreds of thousands of Black gamers who duel worldwide as Nubian personas in the secret multiplayer online role-playing card game, SLAY. No one knows Kiera is the game developer, not her friends, her family, not even her boyfriend, Malcolm, who believes video games are partially responsible for the "downfall of the Black man."

But when a teen in Kansas City is murdered over a dispute in the SLAY world, news of the game reaches mainstream media, and SLAY is labeled a racist, exclusionist, violent hub for thugs and criminals. Even worse, an anonymous troll infiltrates the game, threatening to sue Kiera for "anti-white discrimination."

Driven to save the only world in which she can be herself, Kiera must preserve her secret identity and harness what it means to be unapologetically Black in a world intimidated by Blackness. But can she protect her game without losing herself in the process?
About the Author
---
Brittney Morris is the author of SLAY, The Cost of Knowing, and The Jump, and has written video game narrative for Insomniac Games's Marvel's Spider-Man 2 for PlayStation 5, Unknown Worlds's Subnautica: Below Zero, and Soma Games's The Lost Legends of Redwall. She is the founder and former president of the Boston University Creative Writing Club. She holds a BA in economics. You can find her online at AuthorBrittneyMorris.com and on Twitter or Instagram @BrittneyMMorris.
Praise For…
---
Washington Post's 18 Books to Read this Fall
Refinery29's 12 Books Everyone Will be Talking about This Season
A Publishers Weekly Best Book of the Year
A New York Public Library Top Ten Best Books of 2019
Book Riot's Fall Books to Add to Your TBR Pile
ABA Top Ten Indie Next Pick
ABA Indies Introduce selection
Junior Library Guild Selection
B&N Teen Blog's 20 Biggest YA Debuts of the Fall
Bookish's Fall 2019 Can't-Miss Young Adult Books
Bustle's 20 Captivating New Books From 2019 To Snap You Out Of a Reading Slump

"Gripping and timely." —People

"The novel Black girl nerds have been waiting for." —Refinery29

"Remarkable, innovative, heart-pounding." —BuzzFeed

"Morris immerses readers in the world of gaming with her charged, timely, and witty debut." —Entertainment Weekly

"[A] snappy YA debut." —Washington Post

"Unlike anything out there . . . Easily the best debut novel of the year." —Paste Magazine

"A book that knocks you off your feet while dropping the kind of knowledge that'll keep you down for the count. Prepare to BE slain." —Nic Stone, New York Times bestselling author of Dear Martin and Odd One Out

"More than a novel, SLAY is a conversation about safe spaces, why they're necessary for minorities, and why we should champion their right to exist without being branded exclusionary or racist." —Booklist, starred review

"[A] not-to-be-missed YA debut." —Publishers Weekly, starred review

"Morris does a fantastic job of showing diversity within the black community. . . . Gamers and black activists alike will be ready to SLAY all day." —Kirkus Reviews

"Readers are invited to learn about the black experience in game culture through a compelling new lens. Exploring different versions of the African American experience, this is an important title for public and school libraries." —School Library Journal

"Kiera is so many of us Blerds; and Morris has truly captured the holistic experiences of many Black digital users." —The Horn Book

"Readers will cheer for Kiera as she slays her own demons, and they'll come away from the novel desperately wishing SLAY were more than the product of Morris' imagination." —BookPage

"SLAY doesn't play games with its bold content and character development, guiding readers through various complex levels that explore the wide, gorgeous African diaspora." —Shelf Awareness

"Offers a richly global perspective on the Black diaspora." —BCCB

"Wildly entertaining and impressively insightful. Morris is absolutely an author to watch." —Sara Grochowski, McLean and Eakin Booksellers (Petoskey, MI)

"I was captivated from the very first page and found myself quickly falling in love with Kiera but even more for what Kiera stood for. I cannot wait for more from Brittany Morris!" —Teresa Steele, Old Firehouse Books (Fort Collins, CO)