Your Corner Dark (Hardcover)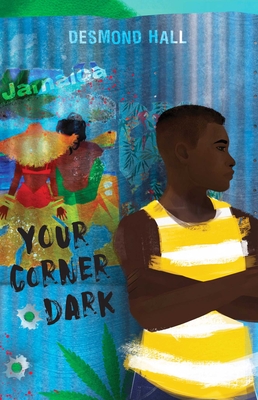 Description
---
American Street meets Long Way Down in this searing and gritty debut novel that takes an unflinching look at the harsh realities of gang life in Jamaica and how far a teen is willing to go for family.

Things can change in a second:

The second Frankie Green gets that scholarship letter, he has his ticket out of Jamaica.

The second his longtime crush, Leah, asks him on a date, he's in trouble.

The second his father gets shot, suddenly nothing else matters.

And the second Frankie joins his uncle's gang in exchange for paying for his father's medical bills, there's no going back...or is there?

As Frankie does things he never thought he'd be capable of, he's forced to confront the truth of the family and future he was born into—and the ones he wants to build for himself.
About the Author
---
Desmond Hall was born in Jamaica, West Indies, and moved to Jamaica, Queens. He has worked as a high school biology and English teacher in East New York, Brooklyn; counseled teenage ex-cons after their release from Rikers Island; and served as Spike Lee's creative director at Spike DDB. Desmond has served on the board of the Partnership for Drug-Free Kids and the Advertising Council and judged the One Show, the American Advertising Awards, and the NYC Downtown Short Film Festival. He's also been named one of Variety magazine's Top 50 Creatives to Watch. Desmond lives outside of Boston with his wife and two daughters.
Praise For…
---
"The best way to describe Your Corner Dark, is to say it's a stomach-knotter. It's one of those tales that ties you up, turns you inside-out, wrings you like a wet cloth. Desmond Hall leaves us no choice but to root for Frankie Green, a young man in Jamaica doing everything he can to claw himself out of the bear trap of his environment, that has transformed him, not exactly into a bear, but definitely into more than just a good boy. Take note—Hall is a hurricane of a writer." --Jason Reynolds, author of New York Times bestseller Long Way Down

"A riveting, fiercely heartfelt and gutsy exploration of one boy's determination to wrest control over his own life, on his own terms. Readers will find it impossible not to root for Frankie as he is confronted with one impossible choice after another. Your Corner Dark is a memorable and unmissable debut by an author to watch." --Courtney Summers, author of the New York Times bestseller Sadie
We appreciate your continued support!
If you would like to make a donation to help us through CLICK HERE.