Guitar Scales: An Extremely Effective Guide To Understanding Music Scales And Modes & How To Use Them To Solo, Improvise And Create B (Paperback)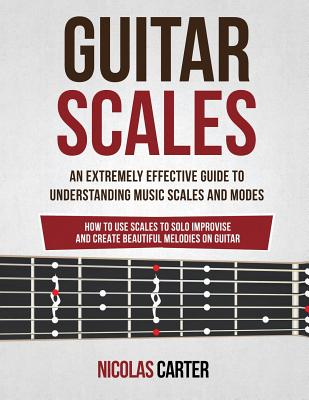 $11.13

Available in our Warehouse: Usually Ships in 3-8 Days
Description
---
The Ultimate Guide To Understanding Music Scales And Modes With Ease
Finally Understand How To Use Scales And Their Modes To Solo, Improvise And Create Beautiful Melodies On Guitar
- Have you ever wanted to really understand scales and how they work on guitar? - Did the scale modes ever seemed like a scary alien concept that only advanced jazz guitar players could use? - Have you ever felt frustrated about scales and how to use them? - Have the scales ever seemed too hard to even bother with?
What if I show you that there is a really easy way to understand scales - any scale?
And what if this understanding brings you the ability to easily use them to: Create cool sounding melodiesPlay with more freedomExpress yourself more through playing?
Scales can be incredibly fun once you understand them They are a music theory concept but - in essence - they're just a group of notes that sound good together They're are your guide to exploring and creating new beautiful and interesting sounds Learning and understanding scales, and the music theory concepts behind them, therefore is an essential part of the journey for any guitar player and any other musician. This book has a unique way to show you just how easy it is to understand scales and become a better musician. It shows you that anyone can learn to use them. It doesn't matter if you're a beginner or an experienced guitar player - you will definitely find lots of benefits in this book
Beginners and Intermediates
This book will be a revelation to you
More experienced guitar players
This book is an excellent study material and a great reference to have every time you might be unsure about something Here's a sneak peak of what you'll learn:
What is a scale
Is there something you must know first
What is the Master Scale
All about the music intervals and why are they important
What are the types of scales
Scale shapes on guitar
How to easily understand modes
Minor pentatonic scale and its modes
Demystifying the term "Diatonic"
Everything about Major and Natural minor scales
Diatonic modes
The truth behind the Harmonic minor scale (the exotic scale) and the Melodic minor scale
Harmonic minor and Melodic minor scale modes
How to practice hearing the sound of any scale or mode
What is a melody
How to use scales to improvise melodies
And much, much more Buy this book NOW to increase your knowledge, become a better musician, and stop feeling frustrated about scales
Pick up your copy today by clicking on the BUY NOW button at the top of this page
About the Author
---
Hi there, Nicolas here. I'm all about continuous life-improvement and discovering your true-self so that we can find and attract beauty into our lives, be the best we can be, and enjoy life as much as possible! Playing music and guitar, or any other instrument, is a big part of that. It's really one of the best ways to express yourself and feel more confident in life! I'm a guitar geek by nature with a passion for learning and playing. From all the experience I gained throughout many years of doing this I know what works and where can I provide the most value from my unique perspective. I'm very grateful to have the opportunity to share what I've learned along the way and help you develop this wonderful skill. I really wish to provide my readers with great value and for my books to be a source of inspiration to you. I'm sure that you will enjoy them and find many benefits! Stay tuned for some awesome books! Nicolas Carter guitaryourday.com P.S. Remember that anyone can learn how to play, don't let anyone convince you otherwise!