Convertible Bunk Bed: Intermediate-Level PVC Project for 18-inch Dolls (Paperback)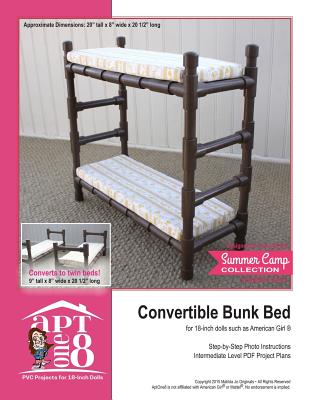 $12.59

Available in our Warehouse: Usually Ships in 3-8 Days
Description
---
Build a convertible bunk bed constructed of PVC pipe for your 18-inch doll, including fabric-covered mattresses and the option of separating the bunks into twin beds
br> This PDF project book includes instructions to build a bunk bed just like you remember from summer camp featuring two stacked beds, each with its own fabric-covered foam mattress. A bit narrower than the traditional twin bed and simple in design, this bed is perfect for a camp cabin or a smaller living space, especially since you can sleep two dolls at once Removable center poles also allow this bed to be taken apart and used as two single beds. The mattresses are made of upholstery foam with a zippered sewn cover to allow for easy laundering. Simply unzip the cover, remove the foam and toss the cover in the wash Neat boxed corners on the cover add a realistic touch, with plenty of full color photo instructions to guide you through the construction process. Supplies Needed: BUNK BED FRAME:
- Two 10-foot Schedule 40 Rigid 1/2-inch PVC pipes (Cut pieces total 18 feet, not accounting for waste.)
- PVC 1/2-inch fittings (slip): 28 tees, eight 4-ways* (sometimes called side-outlet tees), 8 end caps
- Optional: sandpaper (medium and fine grit), spray paint for plastic, contact cement MATTRESSES:
- 2/3 yard fabric (cotton, ticking, lightweight denim, cotton duck, lightweight canvas)
- 1-inch thick upholstery foam (enough for two 7 19-inch slabs)
- Two 12-inch vinyl zippers
- Thread TOOLS:
- Small handheld PVC pipe cutter, hacksaw or miter saw
- Measuring tape or yardstick
- Phillips head screwdriver
- Pliers
- Rotary cutter, self-healing mat and clear quilting ruler * These hard-to-find PVC supplies are available directly from ClubMatilda.com Finished Dimensions: Complete bunk bed stands approximately 20 inches tall, 8 inches wide and 20 1/2 inches long. Individual beds stand about 9 inches tall at the highest point of the head and foot boards. Mattresses are approximately 7 by 19 inches.
About the Author
---
Pattern designer Kristin Rutten is the creator, owner and sole operator of Matilda Jo Originals, a rural Montana company which provides sewing patterns for doll clothing and accessories under the brand name "Matilda's Closet" and PVC furniture plans under the "AptOne8" label. Matilda Jo Originals focuses on providing modern designs with realistic details. In addition, the underlying goal of the business is to provide a positive role model for young girls, offering ideas, projects and pursuits designed to inspire big dreams. All patterns are designed to be user-friendly, with step-by-step full-color photo instructions. Patterns are fully tested before release by the "Team Tillie Testers" and support is always available directly from Kristin via email and various other online platforms. Kristin likes to say that using her patterns is "like having Matilda Jo sitting in your sewing room guiding you through the process!" In addition to titles available on Amazon, all patterns and various other supporting products are available directly from the company website, in addition to a wide variety of tutorials, contests and other resources. Website: MatildaJo.com Facebook: Facebook.com/MatildaJoOriginals Instagram: Instagram.com/matilda_jo Pinterest: Pinterest.com/MatildaJoOrig Twitter: Twitter.com/matildajoorig