The Secret Garden (Children's Classics #12) (Paperback)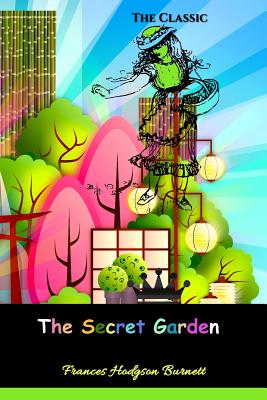 $11.49
Available in our Warehouse: Usually Ships in 3-8 Days
Description
---
Classics for Your Collection: goo.gl/U80LCr --------- Synopsis: When orphaned Mary Lennox comes to live at her uncle's great house on the Yorkshire Moors, she finds it full of secrets. The mansion has nearly one hundred rooms, and her uncle keeps himself locked up. And at night, she hears the sound of crying down one of the long corridors. The gardens surrounding the large property are Mary's only escape. Then, Mary discovers a secret garden, surrounded by walls and locked with a missing key. One day, with the help of two unexpected companions, she discovers a way in. Is everything in the garden dead, or can Mary bring it back to life? Fuller Description: Mary Lennox is a little British girl growing up in colonial India in the care of a sequence of maids. Her father is an officer in the British army and her mom is very busy with the vital business of dinner parties and nice clothes, Mary barely knows her own parents. And since she spends all of her time alone, she's selfish, demanding, and self-absorbed. Her parents die suddenly of cholera, leaving her in the care of her mother's brother, Archibald Craven. Mary's uncle doesn't care about her and he brings her to his huge mansion in England, Misselthwaite Manor, and basically leaves her there on her own. Mary's maid Martha is a cheerful Yorkshire woman who won't stand for Mary's spoiled tantrums and fits. She tells Mary all about two things which is the turning point in the story: (1) There is a walled garden on the grounds that has been sealed off since the death of Archibald Craven's wife ten years before; and (2) Martha has a little brother named Dickon who loves gardening and wild things. Of course, Mary discovers the walled garden and finally stumbles on the long-lost key to the garden and opens it up. She begins working in the garden. The exercise and outdoor time improves both her physical and her mental health, and Mary stops being quite so much the spoiled princess that she was at the beginning of the novel. The rest of the story revolves around Mary and Colin Craven, Master Craven's invalid son; about other characters like Mrs. Medlock, head of the servants; Martha Sowerby, Mary's maid, Ben Weatherstaff, a brusque but kindly old gardener; Dickon Sowerby, and Susan Sowerby... The Secret in the Secret Garden. Colin's health improves gradually Eventually, Master Craven was asked to come and see his son and he returns immediately to Misselthwaite. Just as he lays his hand to the doorknob, Colin comes rushing out and falls into his arms. Father and son are reconciled, and the miracle of Colin's recovery becomes known to all. Scroll Up and Get Your Copy.
About the Author
---
Frances Eliza Hodgson Burnett (24 November 1849 - 29 October 1924) was an English-American novelist and playwright. She is best known for the three children's novels Little Lord Fauntleroy (published in 1885-1886), A Little Princess (1905), and The Secret Garden (1911). Frances Eliza Hodgson was born in Cheetham, England. After her father died in 1852, the family fell on straitened circumstances and in 1865 immigrated to the United States, settling near Knoxville, Tennessee. There Frances began writing to help earn money for the family, publishing stories in magazines from the age of 19. Burnett enjoyed socializing and lived a lavish lifestyle. Beginning in the 1880s, she began to travel to England frequently and in the 1890s bought a home there where she wrote The Secret Garden. Frances had an active imagination, writing stories she made up in old notebooks. One of her favorite books was Harriet Beecher Stowe's novel Uncle Tom's Cabin, and she spent many hours acting out scenes from that book. Frances and her siblings were sent to be educated at The Select Seminary for Young Ladies and Gentlemen, where she was described as "precocious" and "romantic." She had an active social life and enjoyed telling stories to her friends and cousins; in her mother she found a good audience, although her brothers had a tendency to tease her about her stories. Frances continued her education at the Select Seminary until she was aged fifteen.
We appreciate your continued support!
If you would like to make a donation to help us through CLICK HERE.