Dreaming in Code: Ada Byron Lovelace, Computer Pioneer (Paperback)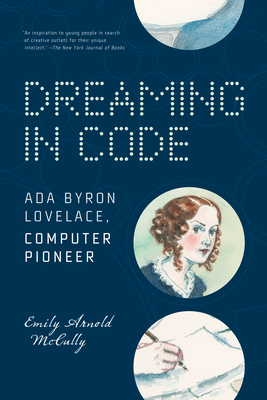 $9.99

Available in our Warehouse: Usually Ships in 3-8 Days
Description
---
"Written with grace and intelligence, researched with care. . . . Sure to inspire a new generation of pioneers." —Shelf Awareness (starred review)

This illuminating biography reveals how the daughter of Lord Byron, Britain's most infamous Romantic poet, became the world's first computer programmer.

Even by 1800s standards, Ada Byron Lovelace had an unusual upbringing. Her strict mother worked hard at cultivating her own role as the long-suffering ex-wife of bad-boy poet Lord Byron while raising Ada in isolation. Tutored by the brightest minds, Ada developed a hunger for mental puzzles, mathematical conundrums, and scientific discovery that kept pace with the breathtaking advances of the industrial and social revolutions taking place in Europe. At seventeen, Ada met eccentric inventor Charles Babbage, a kindred spirit. Their ensuing collaborations resulted in ideas and concepts that presaged computer programming by almost two hundred years, and Ada Lovelace is now recognized as a pioneer and prophet of the information age. Award-winning author Emily Arnold McCully opens the window on a peculiar and singular intellect, shaped — and hampered — by history, social norms, and family dysfunction. The result is a portrait that is at once remarkable and fascinating, tragic and triumphant.
About the Author
---
Emily Arnold McCully is the author and/or illustrator of many picture books, novels, and nonfiction books for children and young adults, including the Caldecott Medal–winning picture book biography Mirette on the High Wireand Ida M. Tarbell: The Woman Who Challenged Big Business — and Won!, which was a Washington Post Best Children's Book of the Year and a finalist for the YALSA Best Nonfiction Book of the Year. Among her favorite topics to write about are brave girls and women. She lives in New York.
Praise For…
---
Ada Lovelace (1815-1852), daughter of poet Lord Bryon, was raised in privilege by her mother, married into an aristocratic, titled family, and received an outstanding education for a woman in the 19th-century...This book is divided into five parts that chronicle Ada's life. In addition to the strong supporting back matter, the use of citations is an outstanding feature of this volume. An exceptional biography and an important addition for all STEM collections.
—School Library Journal (starred review)

Dreaming in Code is written with grace and intelligence, researched with care and peppered with historic photos and remarkable illustrations of 19th-century technology. It's sure to inspire a new generation of pioneers unwilling to let obstacles distract them from leading the way into the future.
—Shelf Awareness for Readers (starred review)

Here McCully offers middle-schoolers a biography at once more nuanced about Lovelace's enduring contribution to computer development and vastly more involving about the domestic dramas that marked her life with her controlling mother, her supportive but ultimately unloved husband, and her largely ignored children...The eminently readable text moves swiftly, and portrait reproductions included throughout underscore the polished society in which nineteenth-century sciences flourished.
—Bulletin of the Center for Children's Books (starred review)

A biography of Ada Lovelace, widely celebrated as the first computer programmer...McCully demonstrates that although Ada had the potential to achieve more, she was hampered by sexism, ill health, and a temperament akin to her father's...A sophisticated yet accessible piece that humanizes a tragic, brilliant dreamer.
—Kirkus Reviews

Interest in Ada Byron Lovelace and other female pioneers of science has soared of late. This young adult biography is a particularly exemplary example of the burgeoning genre and should find a home in all libraries...McCully's work is imminently readable, with short chapters and lavish illustrations. It also includes meaty appendixes and source notes for teen scholars. A worthy addition to biography bookshelves.
—Booklist

Dreaming in Code is written with grace and intelligence, researched with care and peppered with historic photos and remarkable illustrations of 19th-century technology. It's sure to inspire a new generation of pioneers unwilling to let obstacles distract them from leading the way into the future.
—Shelf Awareness Pro

McCully (She Did It!) dramatically details the life of Augusta Ada Lovelace (1815–1852), the person first credited with understanding a computer's potential beyond mathematical calculation...Archival photos and illustrations, appendices, source notes, a glossary, and a bibliography deepen the portrait of this singular figure whose impact on science and technology has long been understated.
—Publishers Weekly Online

McCully paints Lovelace's life as one revealing spurts of brilliance but also defined by a domineering mother; strange maladies; indifference toward her children and husband; a fascination with gambling (and resultant financial ruin); and a possible addiction to laudanum. Readers see a complex woman trapped by history, deserving both sympathy and admiration.
—The Horn Book

Timely and effective, Dreaming in Code is an important project, promoting girls' contributions in science, and an inspiration to young people in search of creative outlets for their unique intellect.
—New York Journal of Books

"Everyone who uses computers should know about Ada Lovelace. This lively biography is a great place to learn the story."
—Steve Sheinkin, three-time National Book Award finalist

"Meticulous research combined with elegant prose introduces young readers to this important piece of hidden history."
—Doreen Rappaport, award-winning author of multiple biographies for young readers

"A masterful depiction of science as it was conducted some two hundred years ago."
—Harriet Reisen, author of Louisa May Alcott: The Woman Behind Little Women

"Combining vivid narrative with impeccable research, Emily Arnold McCully not only gives readers a fresh and captivating live story, but also returns Ada Lovelace to her rightful place in history. I loved it!"
—Candace Fleming, author of the Boston Globe–Horn Book Award winners The Family Romanov and The Lincolns

"This is a beautifully written and utterly fascinating account of the life of the unsung heroine of the computer age, Ada Byron Lovelace, daughter of Lord Byron. She was a mathematical genius and the inventor of computer programming. The obstacles Ada overcame — physical illness, a pathologically controlling mother, and, above all, the misogyny of the scientific establishment — defy the imagination. Without her, we would not have the vast networks of the computer age that underlie our modern world."
—Dinitia Smith, author of The Honeymoon

"Combining vivid narrative with impeccable research, Emily Arnold McCully not only gives readers a fresh and captivating live story, but also returns Ada Lovelace to her rightful place in history. I loved it!"
—Candace Fleming, author of the Boston Globe–Horn Book Award winners The Family Romanov and The Lincolns