The 100 Greatest Days in New York Sports, Updated Edition (Paperback)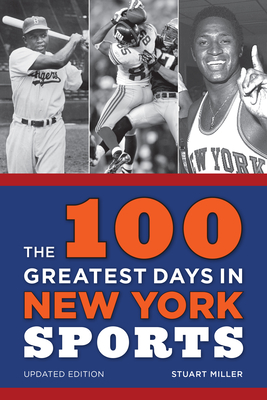 $26.93
This item is not currently available to order.
Description
---
New York City sports history, like the city itself, is noisy, confident, and endlessly fascinating. This is the city where Joe Louis struck a blow against the Nazis, where major league baseball was integrated, and where marathons and professional tennis came into their own. The 100 Greatest Days in New York Sports, Updated Edition, recounts New York's greatest sporting moments, from Jackie Robinson integrating baseball to the Ali-Frazier fight to the New York Giants stunning the New England Patriots in Super Bowl XLII. It covers dramatic sporting events involving the likes of Babe Ruth, Muhammad Ali, Serena Williams, Reggie Jackson, Dr. J, Joe Namath, and many more. This updated edition features a new, chronological approach to highlight the remarkable history and development of sports in the city and the nation. It also includes many new moments, an updated ranking, and a single list that incorporates events that took place outside the city but involved New York teams. Pick a sport-baseball, football, basketball, boxing, tennis-and in every case New York has had front-row seats for the sport's major developments and most memorable events. The 100 Greatest Days in New York Sports illuminates how important sports are to the life of New York and the city's preeminent place in American sports history. It's about all the "firsts" that occurred here, the many titles that have been won, and all the drama in between.
About the Author
---
Stuart Miller has been a journalist for three decades, covering a wide variety of topics for publications including the New York Times, the New York Daily News, the Wall Street Journal, the Los Angeles Times, the Boston Globe, Newsweek, the Guardian, and Variety. He is the author or co-author of The Other Islands of New York City: A History and Guide, Good Wood: The Story of the Baseball Bat, and Where Have All Our Giants Gone. He is a third-generation Brooklynite and lives in the South Slope neighborhood with his wife and two sons.