The Martin Chronicles (Hardcover)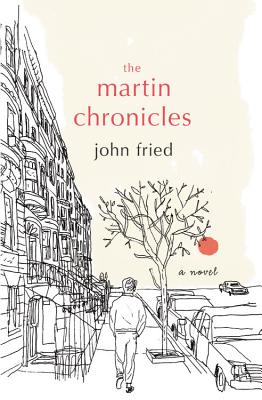 $26.00
This item is not currently available to order.
Staff Reviews
---
THE MARTIN CHRONICLES is a coming-of-age story with an incredible amount of heart. It is told almost like a memoir, and each chapter shows us a different lesson learned along the journey to Martin's adulthood. These lessons are always complicated, just like Martin's life, which gives the whole novel a sincere and believable quality. The novel is compulsively readable and is oddly "unputdownable." Martin becomes a friend you could listen to at any time!
— Luisa
Description
---
A powerful and heartfelt coming-of-age novel that follows Martin Kelso as he grows up in 1980s New York and faces the magic of first experiences, as well as the heartbreak of hard-won life lessons.
Martin Kelso's comfortable world starts to change at the age of eleven. Girls get under his skin in ways he never noticed before. His cousin Evie, who used to be Marty's closest confidante--the one who taught him the right way to eat a pizza and how to catch tadpoles--has grown up into a stranger, mysterious and unpredictable. Marty and his best friends once inhabited fantasy worlds of their own making, full of cowboys and cops and robbers, where the heroes always won the day. But now, as neighborhood kids are attacked on their walk to school, they find themselves wanting to play a new game that better prepares them for real life.
As life changes quickly and Marty feels less secure with himself, the difference between games and reality, friend and foe, and right from wrong becomes much more difficult to distinguish. At the same time, this new world offers possibilities as exciting as they are frightening.
This poignant debut perfectly captures the intense emotion, humor, and earnestness of young adulthood as Marty, age eleven to seventeen, navigates a series of life-changing firsts: first kiss, first enemy, first loss, and, ultimately, his first awareness that the world is not as simple a place as he had once imagined.
About the Author
---
John Fried teaches creative writing at Duquesne University in Pittsburgh. He received his MFA from Warren Wilson College's Program for Writers. His short fiction has appeared in numerous journals, including the Gettysburg Review, North American Review, and Columbia Journal. Prior to teaching, he was a magazine writer and editor in New York, and his work appeared in various publications, including the New York Times Magazine, Rolling Stone, New York, Time, and Real Simple.
Praise For…
---
"Wise and winning, THE MARTIN CHRONICLES is a sumptuous evocation of those adolescent afternoons when every moment was equally fraught and full of possibility. A charming, marvelous debut." —Colson Whitehead, Pulitzer Prize and National Book Award-winning authorof The Underground Railroad

"A beautiful debut. THE
MARTIN CHRONICLES transforms a
series of adolescent snapshots into a raw, unforgettable mosaic."—Stephen Chbosky, New York Times bestselling author of The Perks of Being a Wallflower

"John Fried's debut is a
funny, tender, honest coming-of-age story, brimming with heart. THE MARTIN CHRONICLES is about first love and family and loss, but also, set on the Upper
West Side of Manhattan in the '80s, it's a nostalgic look into the past and, in
the end, a love story about that specific place and time."—JuliannaBaggott, nationally bestselling author ofThe Seventh Book of Wonders

"Fried's
lighthearted humor shines through...offers playful moments and an evocative
atmosphere."—Publishers Weekly

"Fried infuses every page with warmth and
wonder. The setting on the bustling streets of 1980s Manhattan is the perfect
mirror for Marty's swirling emotions. Fans of Brady Udall and Matthew Norman
will appreciate Marty's honesty, humor, and angst as he discovers his rightful
place in his family, at school, and in his social circle."—Booklist