Imaginary Friend (Hardcover)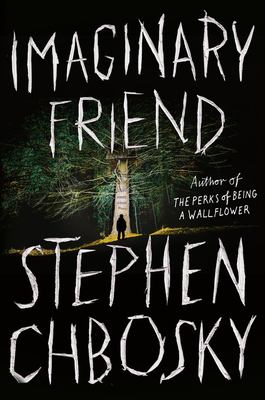 $30.00

Available in our Warehouse: Usually Ships in 3-8 Days
Staff Reviews
---
This sucked me right in - and I am not normally a horror reader! Fans of Stephen King & Stranger Things will eat this up - it's a total page turner and a wild ride.
— Suzanna
October 2019 Indie Next List
---
"Imaginary Friend has, in my humble opinion, already earned its spot on the top shelf of classic horror novels. Reminiscent of Stephen King's It and Neil Gaiman's Coraline, it is one of the most compulsively terrifying, eerily uncanny novels of our time. Once you pick up this book, you won't put it down until you've devoured it whole (or, should I say, it has devoured you), and once finished, you will feel the dangerous urge to turn to the first page and start all over again. It is an utterly original masterpiece of fear. Thank you, Stephen Chbosky, for the lost sleep and the goosebumps! Signed, a hard-to-scare horror fanatic."
— Tianna Moxley, The River's End Bookstore, Oswego, NY
Description
---
A young boy is haunted by a voice in his head in this acclaimed, bestselling epic of literary horror from the author of The Perks of Being a Wallflower.

One of The Year's Best Books (People, EW, Lithub, Vox, Washington Post, and more) We can swallow our fear or let our fear swallow us. Single mother Kate Reese is on the run. Determined to improve life for her and her son, Christopher, she flees an abusive relationship in the middle of the night with her child. Together, they find themselves drawn to the tight-knit community of Mill Grove, Pennsylvania. It's as far off the beaten track as they can get. Just one highway in, one highway out. At first, it seems like the perfect place to finally settle down. Then Christopher vanishes. For six long days, no one can find him. Until Christopher emerges from the woods at the edge of town, unharmed but not unchanged. He returns with a voice in his head only he can hear, with a mission only he can complete: Build a treehouse in the woods by Christmas, or his mother and everyone in the town will never be the same again. Twenty years ago, Stephen Chbosky's The Perks of Being a Wallflower made readers everywhere feel infinite. Now, Chbosky has returned with an epic work of literary horror, years in the making, whose grand scale and rich emotion redefine the genre. Read it with the lights on.
About the Author
---
Stephen Chbosky is the author of the multi-million-copy bestselling debut novel The Perks of Being a Wallflower. In 2012, Chbosky wrote and directed an acclaimed film adaptation of his novel, starring Logan Lerman, Emma Watson and Ezra Miller. He also directed the acclaimed 2017 film Wonder starring Julia Roberts, Owen Wilson and Jacob Tremblay. Imaginary Friend is Chbosky's long-awaited second novel.
Praise For…
---
THE INSTANT NEW YORK TIMES BESTSELLER
One of Fall 2019's Best Books (People, EW, LitHub, Vox, Bustle, Washington Post, Associated Press, and more)

"Twenty years after his smash hit novel, The Perks of Being a Wallflower, Stephen Chbosky returns. . . an ambitious tale narrated through multiple perspectives, mashing together horror, fairy tales and the (rewritten) Bible. . . But Chbosky's true skill is in turning a book of absolute horrors -- both fantastical and real -- into an uplifting yarn. [This is] a book about so much -- fate, destiny, redemption, power. . . Chbosky has his eye firmly on humanity."—New York Times Book Review

"Imaginary Friend is an all-out, not-for-the-fainthearted horror novel, one of the most effective and ambitious of recent years. . . To be sure, the underlying sensibility that characterized 'Wallflower' is present in the new book, particularly in its empathetic portraits of people struggling to recover from personal tragedy. . . Perhaps its most impressive aspect is the confidence with which Chbosky deploys the more fantastical elements of his complex narrative. . . A very human story with universal implications."—Washington Post

"Chbosky's horror writing stands on its own. . . a gleeful meditation. . . the nine years Chbosky reportedly spent writing the book shows in his well-crafted scares, snappy pacing and finely turned plot. Imaginary Friend is well worth the time for those who dare."—TIME Magazine

An epic work of horror. . . Ambitious and compulsively readable. . . a Grand Guignol exploration of what it means to have faith, even in the face of absolute hopelessness. . . His willingness to pursue and present answers to such meaningful queries is what elevates Imaginary Friend from a more than competent attempt at the horror genre to a formidable work on par with other genre operas that also tackle spiritual matters, like Stephen King's 1978 behemoth 'The Stand' or Justin Cronin's 'The Passage' trilogy. Imaginary Friend is a book that far outstrips the expectations of his chosen genre. . . a book full of it's own light."—Pittsburgh Post-Gazette

"A haunting and thrilling novel pulsing with the radical empathy that makes Chbosky's work so special."—John Green, #1 New York Times bestselling author of The Fault in Our Stars

"Like The Perks of Being a Wallflower, Imaginary Friend says that no matter how dark the places you have been or the things you have seen, no one and nothing and nowhere is beyond redemption. What is astonishing and laugh-out-loud genius is that Chbosky has disguised all this wisdom in an entertaining thriller. In true Stephen Chbosky style, he gives you the bran and the doughnut. Spiritual enlightenment and horror. I don't know how he did it. But he did it. It's a masterpiece."—Emma Watson, actor and activist

"If you aren't blown away by the first fifty pages of Imaginary Friend, you need to get your sense of wonder checked."—Joe Hill, #1 New York Times bestselling author of The Fireman and NOS4A2

"If you grew up reading The Perks of Being a Wallflower, you won't want to miss this spooky, surreal thriller. . . You'll feel locked in the battle between good and evil as Kate and Christopher fight for their lives."—Good Housekeeping

"A creepy horror yarn that would do Stephen King proud. . . The reader will want to be sure that no one is hiding behind the chair. . . That's the nature of a good scary story -- and this one is excellent. A pleasing book for those who like to scare themselves silly, one to read with the lights on and the door bolted."—Kirkus

"Reminiscent of the epic novels of Stephen King. . . With multiple points of view that probe the thoughts and nightmares of characters from all over town, this is an immersive read that walks the line between dark fantasy and horror [and] reads like a season of Stranger Things. . . [Imaginary Friend] will sell itself to readers who have waited twenty years for a new novel from Chbosky (The Perks of Being a Wallflower, 1999), but horror fans will also be curious. A big, scary book."—Booklist

"An unputdownable, extraordinary book. Stephen Chbosky manages to combine the heart and emotion that suffuses all of his work with Stephen King chills. The pages practically turn themselves."—Greer Hendrick & Sarah Pekkanen, #1 New York Times bestselling authors of The Wife Between Us and An Anonymous Girl

"Sure, this unputdownable book is the scariest thing I've read in a long time. Mysterious woods. Evil forces. Unseen worlds. But it's also, like everything Chbosky does, imbued with heart and soul. You'll fall in love with these characters. That's why they stay with you, like a haunting."—R. J. Palacio, #1 New York Times bestselling author of Wonder

"Imaginary Friend is a sprawling epic horror novel that hearkens back to the classics of 1970s Golden Age, but, like Stranger Things, with a twinkle in its malevolent eye. Enormous, scary fun."—Dan Choan, bestselling author of Ill Will

"Imaginary Friend has bee a long time coming. And like a fine Bordeaux, it rewards that wait in countless ways. This is a fearsome, remarkably ambitious novel that breaks through the boundaries of the horror genre to become epic -- in all the best senses of the word."—Lincoln Child, #1 New York Times bestselling coauthor of Verses for the Dead and City of Endless Night

"Imaginary Friend is simply extraordinary reading experience -- it reminded me of discovering a classic Stephen King novel from two decades ago, but all funneled through Chbosky's utterly unique style. A tremendous read, every bit worth the wait."—Blake Crouch, New York Times bestselling author of A Dark Matter

"With Imaginary Friend, Stephen Chbosky has written another classic, setting a new high watermark for fantasy horror. It is the greatest story ever told of love and salvation in which a little child shall save them. It is as spine-tingling sinister as a Stephen King tome, as ghastly as any ghost story by Peter Straub, as gothic as any Neil Gaiman title. It should become a horror perennial, taken out at Halloween and Christmas or any other time a reader wants a proper fight."—Washington Independent

"Chbosky brings deep humanity to his characters and creates genuinely unsettling tableaux, including a nightmarish otherworld that Christopher accesses via his treehouse."—Publishers Weekly

"You won't want to miss this spooky, surreal thriller."—Good Housekeeping

"The author of Perks of Being a Wallflower goes full Stephen King in his new supernatural thriller of epic proportions. . . This is my kind of Christmas novel!"—LitHub

"This is an immersive read. . . With its highly precocious young hero, the novel reads like a season of Stranger Things."—Booklist

"It's not just horror that Stephen Chbosky is tackling: it's religion, too [which] makes the world-building all the more richer...not a light read, but it is a thrilling one."—Variety
Coverage from NPR