Sito: An American Teenager and the City that Failed Him (Hardcover)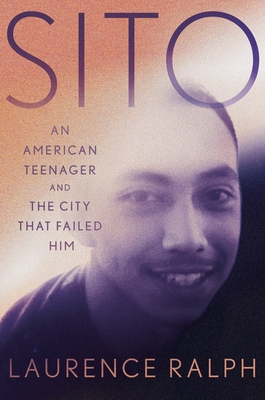 $30.00

Coming Soon - Available for Pre-Order Now
Description
---
A riveting and heart-wrenching story of violence, grief and the American justice system, exploring the systemic issues that perpetuate gang participation in one of the wealthiest cities in the country, through the story of one teenager. 

In September of 2019, Luis Alberto Quiñonez—known as Sito— was shot to death as he sat in his car in the Mission District of San Francisco. He was nineteen. His killer, Julius Williams, was seventeen. It was the second time the teens had encountered one another. The first, five years before, also ended in tragedy, when Julius watched as his brother was stabbed to death by an acquaintance of Sito's. The two murders merited a few local news stories, and then the rest of the world moved on.

But for the families of the slain teenagers, it was impossible to move on. And for Laurence Ralph, the stepfather of Sito's half-brother who had dedicated much of his academic career to studying gang-affiliated youth, Sito's murder forced him to revisit a subject of scholarly inquiry in a profoundly different, deeply personal way.
 
Written from Ralph's perspective as both a person enmeshed in Sito's family and as an Ivy League professor and expert on the entanglement of class and violence, SITO is an intimate story with an message about the lived experience of urban danger, and about anger, fear, grief, vengeance, and ultimately grace.
 
About the Author
---
Laurence Ralph is a Professor of Anthropology at Princeton University, where he is the Director for the Center on Transnational Policing. Before that, he was a tenured professor at Harvard University for eight years. He is the author of Renegade Dreams: Living Through Injury in Gangland Chicago (2014) and The Torture Letters: Reckoning With Police Violence (2020), both published by University of Chicago Press. He is currently a Guggenheim Fellow, a fellow of the Radcliffe Institute for Advanced Study, and a member of the Institute for Advanced Study at Princeton; he has also been the recipient of fellowships from the Guggenheim National Science Foundation, the Carnegie Corporation, and the Ford Foundation. He lives in Princeton, New Jersey with his wife and daughter. 
Praise For…
---
"
Sito
is Laurence Ralph's most intimate, most searching, and most liberated work yet. Following the murder of a teenage family member, Ralph explores this gutting loss through the eyes of fathers and mothers, brothers and friends. Moving seamlessly from living rooms to court rooms, he forces us to recognize that there are no easy answers when it comes to vengeance, healing, and justice. With depths beyond depths, this profound book is a memoir and a sociological analysis; it is a critique, a confession, and a prayer." —
Matthew Desmond, Pulitzer Prize-winning author of Evicted
"With great care, skill, and nuance, acclaimed anthropologist Laurence Ralph tells the tragic story of nineteen-year-old Luis Alberto Quiñonez. Drawing on his pioneering research on race, policing, and violence, Ralph takes the reader on a powerful and moving journey that unveils the failures of the criminal justice system in the United States. While there is much to despair, Ralph leaves readers with a deep sense of hope—that the failures of the past can be corrected and that we can build a more just and equitable society where young people like Sito can survive and thrive."—
Keisha N. Blain, coeditor of the #1 New York Times bestseller Four Hundred Souls: A Community History of African America, 1619–2019
"
Sito
is an extraordinary story of murder, grief, revenge, and the possibility of healing.  With this beautifully written account, Laurence Ralph takes us to a place that is, at once, intimate and revealing.  He calls into question his own ideals and scholarly conclusions as he confronts his family's loss and grief.  And, in the end with the Orishas guiding his tongue, he offers a prayer that we all need to hear.  Heartwrenchingly complex.
Sito
is a powerful and moving book." —
Eddie S. Glaude, Jr., James S. McDonnell Distinguished University Professor at Princeton University
"SITO is both a deeply moving work of remembrance and a powerful indictment of our racist judicial system. Once again, Ralph proves that he is a brilliant ethnographer and expert storyteller. His sensitive prose gives us heart wrenching insight into a young life that ended too soon and a grieving family's search for truth, justice, and forgiveness. This book sets a new standard for social science writing in the 21st century."—
Jason De León, Author of Soldiers and Kings: Survival and Hope in the World of Human Smuggling
"Laurence Ralph ruminates on gang violence and our decadent criminal legal system through the life and tragic murder of his 19-year-old loved one, Sito. The blend of intimacy and authority, of self-and-structural reflection, of despair and expectation make for a profoundly affecting and edifying book. Sito is a triumph." —
Ibram X. Kendi, National Book award-winner and New York Times bestselling author
"Compelling. . . It is impossible to read
The Torture Letters
without the nagging realization that right now, somewhere in the United States, a similar story is playing out in real time. This book matters."—
The Nation, on The Torture Letters
"[A] deeply caring work. . . An essential primer on the roots of police violence."—
Publishers Weekly, on The Torture Letters
"Ralph brings necessary light to the problem of police torture. A damning indictment of the senseless and seemingly unceasing violence committed by those charged with serving the public."—
Kirkus Reviews, on The Torture Letters
"Renegade Dreams is a tour de force―extremely well written and engaging, and replete with original insights. Once I began reading Ralph's book I had a difficult time putting it down.  His field research is fascinating. And his explicit discussion of the interconnections of inner-city injury with government, community institutions, as well as how it is related to historical and social processes, is a major contribution."
—
William Julius Wilson, author of The Truly Disadvantaged: The Inner City, the Underclass, and Public Policy, on Renegade Dreams
"Although it lacks the easy narrative of many traditional ethnographies, this is precisely the book's strength. There is no convenient valorisation of the ordinary extraordinariness of the lives portrayed here. Their dreams are shown to be chaotic, complex and contradictory. Just like life in 'Eastwood.'"—
Times Higher Education, on Renegade Dreams
"Astounding in its clarity and groundbreaking in its power,
Renegade Dreams
is a miraculous as the efforts of its all-American characters to remake life and invent a future without injury."—
Joao Biehl, author of Vita: Life in a Zone of Social Abandonment, on Renegade Dreams