Full Count: The Education of a Pitcher (Hardcover)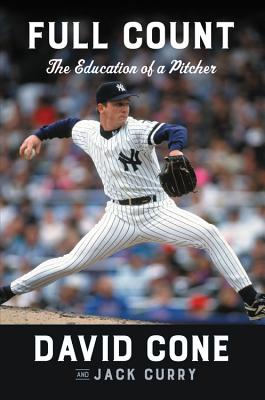 $30.80

Available in our Warehouse: Usually Ships in 3-8 Days
Description
---
Met and Yankee All-Star pitcher David Cone shares lessons from the World Series and beyond in this essential New York Times bestselling memoir for baseball fans everywhere.
"There was a sense about him and an aura about him. Even when he was in trouble, he carried himself like a pitcher who said, 'I'm the man out here.' And he usually was." -- Andy Pettitte on David Cone.
To any baseball fan, David Cone was a bold and brilliant pitcher. During his 17-year career, he became a master of the mechanics and mental toughness a pitcher needs to succeed in the major leagues. A five-time All-Star and five-time World Champion now gives his full count -- balls and strikes, errors and outs -- of his colorful life in baseball.
From the pitchers he studied to the hitters who infuriated him, Full Count takes readers inside the mind of a thoughtful pitcher, detailing Cone's passion, composure and strategies. The book is also filled with never-before-told stories from the memorable teams Cone played on -- ranging from the infamous late '80s Mets to the Yankee dynasty of the '90s. And, along the way, Full Count offers the lessons baseball taught Cone -- from his mistakes as a young and naive pitcher to outwitting the best hitters in the world -- one pitch at a time.
About the Author
---
David Cone is the current color commentator for the New York Yankees on the YES Network. He made his MLB debut in 1986 and continued playing until 2003. Cone pitched the sixteenth perfect game in baseball history in 1999. He was a five-time All-Star and led the major leagues in strikeouts each season from 1990-92. A two-time 20 game-winner, he set the MLB record for most years between 20-win seasons with 10. He was a member of five World Series championship teams -- 1992 with the Toronto Blue Jays, and 1996, 1998, 1999 and 2000 with the New York Yankees. He currently lives in New York City.

Jack Curry is an award-winning sports journalist who is an analyst on the Yankees' pre-game and post-game shows on the YES Network, where he's worked since 2010. He has won four Emmy Awards as part of YES's Yankee coverage and is also a columnist for YESnetwork.com. Before joining YES, he covered baseball for 20 seasons at the New York Times, first as a Yankee beat writer and then as a national baseball correspondent. Curry is the co-author with Derek Jeter of the New York Times bestseller The Life You Imagine: Life Lessons for Achieving Your Dreams. He currently lives in New Jersey.
Praise For…
---
"David Cone was not only one of the smartest pitchers I ever managed, he was also a fearless competitor and a consummate teammate. Whether he was playing through pain or coming out of the bullpen for us in the World Series, his leadership and selflessness was a vital part of our four championships. In [FULL COUNT], David Cone and Jack Curry take us on a journey of what it takes to stay mentally and physically tough enough to maintain the edge it takes to compete on a championship level year after year."—Joe Torre, #1 New York Times bestselling author of The Yankee Years

"When one of our generation's greatest pitching minds teams up with one of our generation's greatest baseball writers, the results will be riveting. And this book is riveting. You won't be able to put it down as Cone and Curry take you around the bases on an incredible ride."—p.p1 {margin: 0.0px 0.0px 0.0px 0.0px; text-align: center; font: 12.0px Arial; color: #2c2c2c}Michael Kay, Yankees YES Network play-by-play announcer

"With a keen observational eye, David Cone provides a master's-level class on both the art and science of pitching. Chapters crackle like his trademark slider, none more so than his opus on the pitcher-catcher symbiosis."—p.p1 {margin: 0.0px 0.0px 0.0px 0.0px; text-align: center; font: 12.0px Arial}Tom Verducci, New York Times bestselling author of The Cubs Way

"There was something different about David Cone. There seemed to be a sly knowing smirk in the way he approached life, which carried over when he took the mound. There was an unpredictability, almost mischievousness to the way he went after MLB hitters. You never quite knew which pitch he was going throw, at what angle he would throw it, and what the ball might do. No matter what he did, or for which team he performed, there was evident joy and intelligence on display. Jack Curry and David Cone are the perfect team to allow us fans a window into the thinking of one of our generation's finest and most clever pitchers."—p.p1 {margin: 0.0px 0.0px 0.0px 0.0px; text-align: center; font: 12.0px Arial}Jim Abbott, former MLB pitcher and author of Imperfect: An Improbable Life

"David Cone was as smart and gutsy as any pitcher I ever played behind. In Full Count, he describes what it's like to be on the mound in high-pressure situations. If you want to know what a pitcher is thinking, this is the perfect book for you. I've learned so much about the nuances of pitching from Coney. He's a pitching genius."—p.p1 {margin: 0.0px 0.0px 0.0px 0.0px; text-align: center; font: 12.0px Arial}Paul O'Neill, former Yankees and Reds outfielder and five-time World Series Champion

"David Cone, one of the great pitchers of his era, takes you through his journey, complete with all the ups and downs he faced along the way. Full Count is a must read for any baseball fan."—p.p1 {margin: 0.0px 0.0px 0.0px 0.0px; text-align: center; font: 12.0px Arial}Tom Glavine, former MLB pitcher and two-time Cy Young Award winner

"This is not the typical athlete autobiography. David Cone is thoughtful, mindful, critical and cutting -- often at the same time -- and his life and legacy are captured in full, unsparing detail. His ability to flirt with perfection clearly didn't end on the mound."—Jeff Passan, ESPN baseball reporter and New York Times bestselling author of The Arm: Inside The Billion Dollar Industry Of the Most Valuable Commodity In Sports

"Cone provides a unique analysis of an intriguing game."—Booklist

"[An] enjoyable memoir that recounts Cone's remarkable career and provides an honest look at the road to the major leagues...While this is a must-read for Cone fans, baseball aficionados of any allegiance will surely delight in this behind-the-scenes memoir."—Publishers Weekly

"Refreshing...this is a must-read."
—Library Journal

"Insightful...Cone, a former Cy Young winner who threw for both the Mets and the Yankees, offers a probing account of what it takes -- emotionally, psychologically and physically -- to pitch at the major league level."—Newsday

"One of the few to find success pitching for New York's Yankees and Mets, Cone had a reputation as one of the game's smartest pitchers. This deep but readable dive into the art of pitching shows why."—The Milwaukee Journal Sentinel

"In his new memoir, Full Count: The Education of a Pitcher...Cone remembers his career highlight with a little more vulnerability than the fans witnessed on the field. [As] complete and compelling a treatise about what makes a pitcher tick as anything that's ever come before."—New York Post

"Baseball fans will gain a deeper understanding of this particularly tough player and the art and science of pitching."—Fordham Magazine