Becoming Myself: A Psychiatrist's Memoir (Paperback)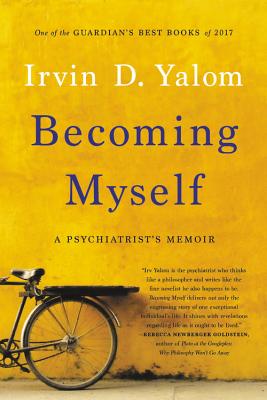 $19.99

Available in our Warehouse: Usually Ships in 3-8 Days
Description
---
Bestselling writer and psychotherapist Irvin D. Yalom puts himself on the couch in a lapidary memoir
Irvin D. Yalom has made a career of investigating the lives of others. In this profound memoir, he turns his writing and his therapeutic eye on himself. He opens his story with a nightmare: He is twelve, and is riding his bike past the home of an acne-scarred girl. Like every morning, he calls out, hoping to befriend her, "Hello Measles!" But in his dream, the girl's father makes Yalom understand that his daily greeting had hurt her. For Yalom, this was the birth of empathy; he would not forget the lesson. As Becoming Myself unfolds, we see the birth of the insightful thinker whose books have been a beacon to so many. This is not simply a man's life story, Yalom's reflections on his life and development are an invitation for us to reflect on the origins of our own selves and the meanings of our lives.
About the Author
---
Irvin D. Yalom, MD, is professor emeritus of psychiatry at the Stanford University School of Medicine. He was the recipient of the 1974 Edward Strecker Award and the 1979 Foundations' Fund Prize in Psychiatry. He is the author of When Nietzsche Wept (winner of the 1993 Commonwealth Club gold medal for fiction); Love's Executioner, a memoir; Becoming Myself, a group therapy novel; The Schopenhauer Cure; and the classic textbooks Inpatient Group Psychotherapy and Existential Psychotherapy, among many other books. He lives in Palo Alto, California.
Praise For…
---
One of the Guardian's best books of 2017

"When Yalom publishes something--anything--I buy it, and he never disappoints. He's an amazing storyteller, a gorgeous writer, a great, generous, compassionate thinker, and--quite rightly--one of the world's most influential mental healthcare practitioners."—Nicola Barker, Guardian

"Fans of this eloquent and introspective author will welcome this innermost chronicle of his history, passions, and the keys to unlocking a fruitful life."—Kirkus Reviews

"Part memoir, part diary, and part teaching tool, Yalom's autobiography is revealing, inspiring, and moving. It is well written and well organized....Yalom's warm personality permeates the pages...[a] delightful memoir."—Journal of Sex and Marital Therapy

"In 40 chapters, from 'The Birth of Empathy' to 'A Novice at Growing Old,' the author writes with authority, energy, and humility.... An honest, engaging, and rewarding autobiography. For Yalom's admirers and those interested in the philosophy of psychology and memoirs."—Library Journal,starred review

"Wise and warm, this memoir recounts a life well lived."—Campus Circle

"Becoming Myself offers a rich exploration of some of the author's favorite themes with a rare honesty, openness and generosity... But it is in the way Yalom weaves together insights and recommendations about therapeutic praxis that he is most compelling. His ideas about therapy and technique build upon a child-like curiosity and unquenchable thirst for learning about the human condition. The medium for delivery is Yalom's brilliant story-telling...and the result is a treasure trove of gems about how we can best create the kind of connection and impact that foster satisfaction and success for our patients, as well as for ourselves."—American Journal ofPsychoanalysis

"I've always wondered, as any reader would wonder, about the author, about the balance between the professional and the personal and how out of that alchemy the writing emerged. Finally, in Becoming Myself, we have the answer, and it is wonderful, compelling, and as insightful about its subject and about the times he lived in as you could hope for. A fabulous read."—Abraham Verghese, author of Cutting for Stone

"Near the end of Becoming Myself, Irvin Yalom claims to be 'a novice at growing old'--to which I say, 'Oh, please!--you're as good at it as you have been at everything else.' This is a candid, insightful memoir by one of the world's most important and accomplished experts on the human soul."—Daniel Menaker, author of The Treatment and My Mistake: A Memoir

"Irv Yalom is the psychiatrist who thinks like a philosopher and writes like the fine novelist he also happens to be. Becoming Myself delivers not only the engrossing story of one exceptional individual's life. It shines with revelations regarding life as it ought to be lived."—Rebecca Newberger Goldstein, author of Plato at the Googleplex: Why Philosophy Won't Go Away

"I loved reading Becoming Myself, having been a huge fan of Irvin D. Yalom for many years. This is the book we've been waiting for from him, his own deep journey into the self.... This is a book to read and reread for years to come, a memorable journey through Yalom's time and ours."—Jay Parini, author of The Last Station and New and Collected Poems: 1975-2015