Ending Parkinson's Disease: A Prescription for Action (Hardcover)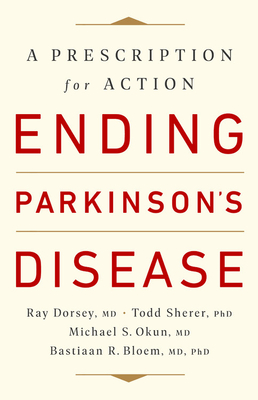 Description
---
In this "must-read" guide (Lonnie Ali), four leading doctors and advocates offer a bold action plan to prevent, care for, and treat Parkinson's disease-one of the great health challenges of our time.
Brain diseases are now the world's leading source of disability. The fastest growing of these is Parkinson's: the number of impacted patients has doubled to more than six million over the last twenty-five years and is projected to double again by 2040. Harmful pesticides that increase the risk of Parkinson's continue to proliferate, many people remain undiagnosed and untreated, research funding stagnates, and the most effective treatment is now a half century old.

In Ending Parkinson's Disease, four top experts provide a plan to help prevent Parkinson's, improve care and treatment, and end the silence associated with this devastating disease.


About the Author
---
Ray Dorsey is the David M. Levy Professor of Neurology at the University of Rochester, where he directs the Center for Health + Technology. For the past decade, he has pioneered technology to care for individuals with and measure the features of Parkinson's disease. His research has been published in the leading neurology, medical, and economic journals and been featured on NPR and in The Wall Street Journal, and The New York Times. Previously, Ray directed the Parkinson's disease division at Johns Hopkins Medicine and consulted for McKinsey & Company.
Todd Sherer, PhD, is the Chief Executive Officer of The Michael J. Fox Foundation for Parkinson's Research, the largest nonprofit funder of Parkinson's research. Trained as a neuroscientist, he is responsible for the Foundation's overall scientific and fundraising direction to speed treatment breakthroughs and a cure for Parkinson's disease. After a postdoctoral fellowship at Emory University investigating the role of environmental factors in Parkinson's, Todd joined the Foundation's staff in 2004 and was named Chief Executive Officer in 2011.
Michael S. Okun is the Chair and the Adelaide Lackner Professor of Neurology at the University of Florida. Michael is one of the world's leading Parkinson's disease researchers who has advanced surgical treatments. Michael is the National Medical Director of the Parkinson's Foundation, the country's largest Parkinson's disease patient and advocacy group. Michael is a prolific writer with over 500 publications and the author of the book, Parkinson's Treatment: 10 Secrets to a Better Life, that has been translated into 20 languages and is a bestseller for patients and families.
Bastiaan Bloem is a Professor of Neurology and the Medical Director at Radboud University Nijmegen Medical Centre in the Netherlands. In 2004, with Dr. Marten Munneke, Bas created ParkinsonNet, the largest integrated care program for Parkinson's patients. He is an Associate Editor of the Journal of Parkinson's Disease, and has been a featured speaker at leading patient, academic, and health conferences globally.






Praise For…
---
"This book offers a clear pathway forward - while sounding out a resounding clarion alarm; prompting action - that we should all pay heed to!"—Davis Phinney, Founder, Davis Phinney Foundation for Parkinson's

"Over the next 25 years, the number of people with Parkinson's disease is expected to double to at least 12.9 million. With its forecasted exponential rise, most of us will either be affected personally within our own families or know someone with the disease. This book is a must-read for all of us who are or might be affected. It pulls no punches with regard to the seriousness of this emerging pandemic, and its common-sense environmental approaches and precautions, if implemented, will abate the spread of this insidious disease. I know this to be true. I lived it."—Lonnie Ali

"This book shines a light on the environmental factors that put us all at risk for the disease. As a person with Parkinson's and as a father, I hope we will take the urgent action outlined in this important book to stop the growing number of people who will receive a diagnosis."—Brian Grant, former NBA player and Founder of the Brian Grant Foundation

"This book shines an essential spotlight on the need to end Parkinson's, illuminating the key issues we are all facing. It is the role of everyone in the Parkinson's community, patients, researchers, clinicians and advocates, to share this book and ensure that the authors' voices are heard."—Helen Matthews, Deputy CEO, The Cure Parkinson's Trust

"Parkinson's disease is not one disease but rather a collection of many with different contributing factors, and it satisfies many of the criteria of a pandemic. While the authors of Ending Parkinson's Disease are hopeful about making patients' lives better, their real passion is clearly centered around preventing people from ever having to face the disease in the first place. The book is a real eye-opener for people with Parkinson's, caretakers, and healthcare professionals, and should be used by activists all over the world in their discussions with politicians, policy makers and budget holders."—Susanna Lindvall, vice president, European Parkinson's Disease Association, EPDA

"A provocative read. It will certainly encourage you to consider what more you can be doing in the fight against Parkinson's Disease."—Leslie Chambers, MSPH, President and CEO of American Parkinson Disease Association (APDA)

"A clear message and call to action: at least part of Parkinson's is man-made! Let's spread the word and prevent Parkinson's."—Parkinson Vereniging (Dutch Parkinson's Disease Association)
We appreciate your continued support!
If you would like to make a donation to help us through CLICK HERE.