Effect of High Calcium Diet on Blood Pressure (Paperback)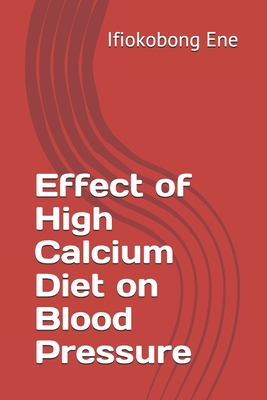 $11.50

Available in our Warehouse: Usually Ships in 3-8 Days
Description
---
Many people take calcium supplements for a number of reasons. Some people hope to strengthen their bones with it.
However, calcium supplements have several drawbacks and health risks as well. For instance, they can raise your risk of heart disease.
The fact is, you need calcium to maintain strong teeth and bones. Do you know that over 99% of the calcium in your body resides in your bones and teeth?
Calcium also plays a very important function in your bloodstream. It helps with the transmission of nerve signals, release of hormones (such as insulin), and the regulation of muscle contraction and dilation.
It is of utmost importance that you get the right amount of this nutrient in your diet. If you don't, your body will draw the reserves from your teeth and skeleton to use in other parts of your body. This will leave your bones weakened.
So, how much calcium does a human need to take each day? Well, according to the Institute of Medicine:
-Women up to the age of 50 should take 1000mg per day
-Men up to the age of 70 should take 1000mg per day
-Women over 50 years of age can do with 1200mg per day
-Men over 70 years of age can do with 1200mg per day.
You see, you can get sufficient amounts of calcium from your diet. Calcium - rich foods include some leafy greens, dairy products, tofu, beans, and nuts.
However, people who eat foods that are not rich in calcium might consider taking supplements.
And that leads us to an important point...
Many studies have found that low intake of dietary calcium increases a person's risk for hypertension. These studies have found that high intake of dietary calcium influences blood pressure. The underlying mechanisms for the beneficial effect of positive calcium balance have been a subject for extensive research in essential and experimental hypertension.
This book explores the effect of high intake of dietary calcium on central blood pressure control.
About the Author
---
Ifiokobong E. is a graduate of Human Physiology from the University of Uyo, Nigeria. He is passionate about research especially in the medical field.