The Micro-Influencer's Brand Partnership Bible: Grow Your Income, Following & Brand (Hardcover)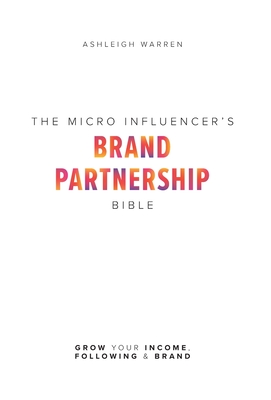 $28.99

Available in our Warehouse: Usually Ships in 3-8 Days
Description
---
It's easy to have moments where you scroll through your phone, see the mega influencers you look up to who are crushing it, and think, "I can never get there." But any influencer who has "made it" started wherever you are today. Success as an influencer is a replicable formula.
Despite being a multibillion-dollar industry, influencer marketing is still the Wild West, especially if you're a micro influencer. Your impact is a hot commodity, but there's no step-by-step process ensuring your financial freedom. How do you grow engagement so brands notice you? How do you get brands to pay you more than you think your content is worth?
Becoming a true entrepreneur is a big decision, but it pays off tenfold-as long as you have a strategic plan. In The Micro Influencer's Brand Partnership Bible, social media marketing strategist Ashleigh Warren provides a manual for growing your personal brand and navigating the influencer path from start to finish. A consultant to the world's top creators and influencers, Ashleigh provides key tactics to build a brand people love and earn lucrative income with any following size. Control your entrepreneurial destiny and gain financial freedom by reading this book and building a sustainable career as a social media content creator.