Chirp (Hardcover)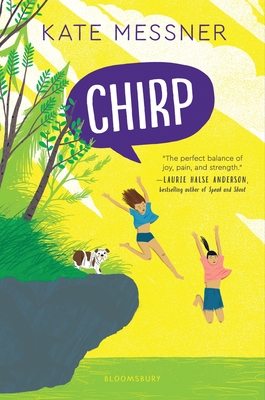 $16.99

Available in our Warehouse: Usually Ships in 3-8 Days
Staff Reviews
---
With a deft hand and a compassionate heart, Kate Messner is a master of the thoughtful middle grade novel. CHIRP's explorations of gender expectations and sexual assault—against a mystery tale that will leave you cheering for its heroes and with a strange desire to eat crickets—are considerate, nuanced, and necessary. A must-read.
— Nicole
Kate Messner might be the hardest-working woman in kidlit, and her books are consistently great - tackling big subjects with humor and heart. CHIRP goes above and beyond. (I may be a bit biased but seriously - READ CHIRP!)
— Jenn
Spring 2020 Kids Indie Next List
---
"Mia is not too happy about moving to Vermont after seventh grade, especially with a broken arm, but she makes friends, finds her spirit, and helps to solve mysteries regarding her grandmother's cricket farm. Mia has her own secrets, too, and it isn't until she finds courage in other people's stories that she can confront her fears. Messner is unparalleled in understanding young people's minds, and her skillful and sensitive handling of difficult topics and situations makes this story one both young people and adults will be glad they read."
— Gail Meyer, The Bookstore Plus Music & Art, Lake Placid, NY
Description
---
"[A] deftly layered mystery about family, friendship, and the struggle to speak up." - Laurie Halse Anderson, bestselling author of Speak and Shout

From acclaimed author Kate Messner comes the powerful story of a young girl with the courage to make her voice heard, set against the backdrop of a summertime mystery.

When Mia moves to Vermont the summer after seventh grade, she's recovering from the broken arm she got falling off a balance beam. And packed away in the moving boxes under her clothes and gymnastics trophies is a secret she'd rather forget.

Mia's change in scenery brings day camp, new friends, and time with her beloved grandmother. But Gram is convinced someone is trying to destroy her cricket farm. Is it sabotage or is Gram's thinking impaired from the stroke she suffered months ago? Mia and her friends set out to investigate, but can they uncover the truth in time to save Gram's farm? And will that discovery empower Mia to confront the secret she's been hiding--and find the courage she never knew she had?

In a compelling story rich with friendship, science, and summer fun, a girl finds her voice while navigating the joys and challenges of growing up.
About the Author
---
Kate Messner is a New York Times–bestselling author of multiple children's books, among them Over and Under the Pond, Up in the Garden and Down in the Dirt, The Brilliant Deep, and How to Read a Story. Before becoming a full-time writer, Kate was a TV news reporter as well as an educator who spent fifteen years teaching middle school English. These days, she splits her time between Lake Champlain and southwest Florida and is trying to summit all forty-six Adirondack High Peaks in between book deadlines.
Praise For…
---
"Kate Messner strikes the perfect balance of joy, pain, and strength in this deftly layered mystery about family, friendship, and the struggle to speak up." —Laurie Halse Anderson, bestselling author of SPEAK and SHOUT

"Chirp is so many things: a mystery, a family story, and a story of the power of friendship. It's about learning to speak out when it seems the whole world would rather you shut up. Sure to be passed from kid to kid to kid" —Laura Ruby, National Book Award Finalist and author of the York Trilogy

"Once again, Kate Messner has written a book that will be a dear and important friend to her readers. A loving and compelling ode to the joy of friendship, the many kinds of strength, and the everyday bravery of girls." —Anne Ursu, author of THE LOST GIRL

"Messner honors middle graders by exploring important, relevant issues at their level of understanding. This book will prompt discussions of gender inequality, consent, and sexual abuse. A must purchase." —Starred Review, School Library Connection

"Messner deftly weaves together myriad complex plot threads to form a captivating whole. . . . Rich, timely, and beautifully written." —Starred Review, Kirkus Reviews

"Layering mystery elements, strong and myriad female characters, and a poignant analogy involving chirp-less female crickets, Messner gently guides Mia on a journey of resilience that both comforts and inspires." —Publishers Weekly, starred review

"Chockfull of strong female role models, Chirp is a riveting middle grade novel of empowerment that deftly tackles a delicate, imperative subject." —BookPage, starred review

"A deliciously layered concoction of mystery, friend bonding and girl power. . . . Messner gracefully spins multiple threads into one beautiful, empowering novel that is likely to satisfy warriors and quietly courageous readers alike." - Shelf Awareness, starred review

"Amid common themes of friendship and overcoming fears, Messner folds in strong messaging about sexual harassment. . . . This book directly addresses a relevant topic rarely discussed with middleschoolers." —Booklist

"Impactful. . . . A message many young people can benefit from hearing." —BCCB

"A timely '#MeToo' novel wrapped in intriguing parallel mysteries." —School Library Journal

"Resonant, necessary. . . . At its heart, Chirp is a female-powered story about courage." - The New York Times Book Review

"An effective, authentically wrought look at how fear and ignorance can lead people to treat those of different races or from different places with suspicion. Messner shines a light on the ways that people are blind to their own privilege while quick to judge others." —Publishers Weekly, starred review, on BREAKOUT

"An accessible format and a unique focus on contemporary issues of criminal justice and racial bias make this an essential purchase." —School Library Journal, starred review, on BREAKOUT

"A sensitive coming-of-age tale about waking up to injustice and where that knowledge can lead." —Kirkus Reviews on BREAKOUT

"Authentic . . . . Middle school worries and social issues skillfully woven into a moving, hopeful, STEM-related tale." —Starred review, Kirkus Reviews on THE EXACT LOCATION OF HOME

"Vivid characters and situations, along with clear, simple writing and plotting, make this an accessible and enlightening read. A gentle but truthful look at poverty and homelessness." —School Library Journal, starred review, on THE EXACT LOCATION OF HOME

"An empathetic, beautiful, magical, fiercely necessary book that stares unflinchingly at the very real challenges contemporary kids face and gently assures them they are not alone. Kate Messner gives her readers a story to cherish." —Anne Ursu, author of BREADCRUMBS and THE REAL BOY on THE SEVENTH WISH

"Hopeful, empathetic, and unusually enlightening." —Kirkus Reviews, starred review, on THE SEVENTH WISH